1-2-3 VA-VA-VROOM! A Counting Book
Children's Books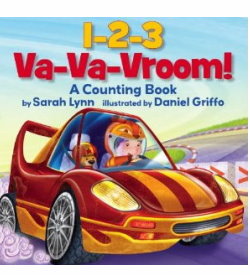 Author:
---
ISBN: 978-0-7614-6162-3
Publisher: Amazon Children's Publishing
Copyright Date: 2012
Audience: ages 3 and up
Price: $16.99
Pages: 32
Description
Sarah Lynn's three young sons taught her how to race toy cars. Together they've used their imaginations to create roads everywhere (couch, kitchen floor, dirt, sand, rug, and the bathtub, just for starters.) The idea for 1-2-3 Va-Va-Vroom! came to Sarah when she was teaching her oldest son to write numbers. They began imagining the pencil as a car drawing its own track.
Reviews
"Counting takes a back seat, so to speak, to the thrills of car racing in Lynn's (Tip-Tap Pop) second picture book. "Let's race" shouts one of three children, first seen playing with toy cars on a playroom rug; the action shifts to a racetrack, with each child piloting his or her own vehicle, complete with animal-themed helmets and, in one case, a teddy bear copilot. The only numbers are those of the laps around the track: "Lap Three!/ Clutch the wheel,/ knuckles white./ Swerve to right! Missing that big smash!" Griffo's bright illustrations pop, blending asphalt action with whimsical details." 
PW