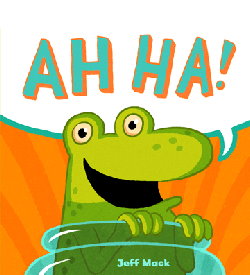 Author: Jeff Mack
ISBN: 78-1452112657
Publisher: Chronicle
Copyright Date: 2013
Rights Retained: Motion picture/performance
Format: Picture Book
Price: $16.99
Pages: 40
Description
An ingenious tale of a frog narrowly escaping its predators, using only four letters.
Reviews
"A story that's as funny as it is fraught with incident. It's gorgeous, too."
Publishers Weekly, starred review
---
"The ecologically sound and emotionally satisfying ending is sure to please all ages."
Kirkus Reviews
---
"The artwork expertly captures all the action, and the animals' expressions are priceless. From happiness, pleasure, and joy to fear, anger, and smugness, Mack nails them all … "Great fun to read aloud."
School Library Journal
---
"Terrific for children just learning their letters, and a stellar read-aloud."
Jennifer M. Brown
Shelf Awareness
---
Frog is settling in for a relaxing day at the pond. (AAHH.) But wait—there are other creatures at the pond as well. (AH HA!) And some of them are out to get Frog. (AHHH!) Not to worry, Frog gets the last laugh. (HA HA!) Using only two letters, along with many brightly colored and lively illustrations, Jeff Mack brings his hallmark humor to this rollicking book that will leave young readers guessing, laughing, and on the edge of their seats.