ARE YOU STILL THERE?
Children's Books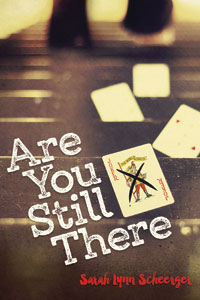 Author:
---
ISBN: 978-0807545577
Copyright Date: 2015
Format: Chapter Book
Price: $16.99
Description
Gabriella Mallory, AP student and perfect-daughter-in-training, stands barefoot on a public toilet for three hours while her school is on lockdown. Someone has planted a bomb and she is hiding. The bomb is defused but the would-be-bomber is still at large. And everyone at Central High School is a suspect. The school starts a top-secret crisis help line and Gabi is invited to join. When she does, she is drawn into a suspenseful game of cat and mouse with the bomber, who has unfinished business. He leaves threatening notes on campus. He makes threatening calls to the help line. And then he begins targeting Gabi directly. Is it because her father is the lead police detective on the case? Is the bomber one of her new friends. Could it be her new boyfriend with his complicated past? As the story unfolds, Gabi knows she is somehow connected to the bomber. Even worse she is part of his plan. Can Gabi reach out and stop him? Or will she be too late?
Notes
Publicity plans: author appearances, advertising, social media campaign, pre-pub buzz campaign, including inclusion in Buzz Books 2015 YA Fall/Winter
Sarah Lynn Scheerger
Reviews
An intriguing mix of a whodunit and social commentary on the tragic and all-too-common problems of bullying and teen suicide. — Kirkus
---
Authentic … gripping and timely. – Booklist Online
---
The pacing moves quickly, adding information and fleshing out characters along the way. Reluctant readers will stay with this one as they try to figure out who really planted the bomb. VERDICT An excellent choice for fans of Todd Strasser's Give a Boy a Gun and Walter Dean Myers's Shooter and Monster. — SLJ
---
https://bookspoppy.wordpress.com/2015/06/04/are-you-still-there-sarah-lynn-scheerger/
It would be cheesy to call Are You Still There an explosive read, but I want to in any case.
It runs like a well oiled machine — fast, secure and accurate.
The story is believable.
Sarah Lynn Scheerger has a new fan.
---
Down the Rabbit Hole, review
http://downtherabbitholeblog.com/2015/06/27/review-are-you-still-there-by-sarah-lynn-scheerger/
Touched a chord in my heart …
Plus, the poetic entries in Stranger's Manifesto about the Game of Life were haunting.
---
BookRiot, What's Catching My Attention, or Trends at BEA
http://bookriot.com/2015/06/04/whats-catching-attention-picking-books-bea/
---
Of Paper and Words, review
http://ofpaperandwords.blogspot.com/2015/06/are-you-still-there-by-sarah-lynn.html
An incredibly compelling book …
a creepy and intriguing thriller that begs the readers to solve its mystery.
---
A Wonderland of Books, review
http://a-wonderland-of-books.tumblr.com/post/123475024334/review-of-are-you-still-there-by-sarah-lynn
"Are You Still There" pulls you in and makes you want to speed read and think critically in order to find out who the bomber is, which keeps you guessing until the very end. I absolutely loved how there were resources for victims of bullying in the back of the book
---
Bibliomnomnom blog, review
https://bibliomnomnom.wordpress.com/2015/07/20/are-you-still-there/
This is a timely book considering the culture of bullying we've seen rise to the media's attention in recent years. It brings attention not only to the side of the observing student – the student who does nothing, tries to remain uninvolved – but of the victim. It brings home the point that is being made – it isn't always the direct actions that hurt, but also the indirect actions of those who ignore the pain of others, and that bullying comes from many sources, not just enemies.
---
http://www.paperworkblog.com/blog/2015/8/27/are-you-still-there-sarah-lynn-scheerger
Readers will be engaged immediately.  The mystery, enhanced by the stranger's manifestos that punctuate the narrative will get my true crime readers. The love story develops and has ebbs and flows that will keep my romantics involved. The ripped from the headlines feel will grab my nonfiction lovers who are being forced to read some fiction.
---