BAD UNICORN (The Bad Unicorn Trilogy; Book 1)
Children's Books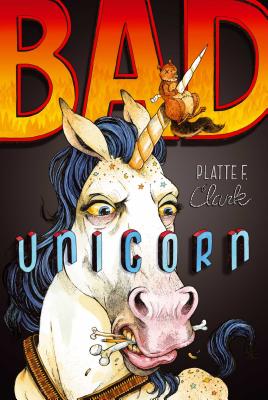 Author:
---
ISBN: 978-1442450127
Publisher: SIMON & SCHUSTER/ALADDIN
Copyright Date: 2013
Rights Retained: Film/Dramatic Motion Picture, Television/Radio, Polish license (Wydawnictwo Czy Tam)
Price: $15.99
Pages: 432
Description
Max Spencer is the only person who can read the most magical book ever written: The Codex of Infinite Knowability. But the Codex isn't the easiest book to work with. First, the copyright warning reads that violators will be lashed to the Tree of Woe and licked by fire kittens. Second, it seems obsessed with the world-ending threat of squirrels. And third, it is keenly aware that a unicorn named Princess would like nothing more than to turn Max into a human shish kebob . . . .
Princess "The Destroyer" is one bad unicorn. Horrified that human children actually draw pictures of her kind jumping over rainbows with tassels on their stabbing horns, she gets an opportunity to turn her love of hunting and eating toward pudgy middle schooler Max Spencer. Her mission: find Max and retrieve the lost Codex for an evil sorcerer and his mysterious master. If she can do that, she's been promised an all-the-humans-you-can-eat buffet in Texas.
Stuck in time with a carnivorous unicorn on this trail, Max must find the courage to save himself, his friends, and the entire human race.
Notes
In this start to a hilarious middle-grade fantasy trilogy, Max Spencer discovers that a killer unicorn is hunting him.
Scholastic edition; Polish edition
http://lifemerging.com/2012/11/27/top-ten-tuesday-most-anticipated-books-for-2013-so-far/
http://books.simonandschuster.com/Good-Ogre/Platte-F-Clark/The-Bad-Unicorn-Trilogy/9781442450189#sthash.cAwtvZYV.dpuf
Look for GOOD OGRE soon!
Reviews
"This rollicking urban fantasy takes place in several different worlds, in several different time periods. Max Spencer is a middle school student in Smalltown, USA. He and his friend Dirk are appealing nerds who accidentally end up transporting themselves, their friend Sarah, and a magic-store owner/dwarf to their future world–a world populated by self-aware machines and ruled by the maniacal unicorn "Princess," who rose to power after wiping out the human race. Now Max needs to learn how to harness the Codex of Infinite Knowability in time to be the victor in a gladiator-style fight to the death while his friends train an army of frobbits to come to his aid, all in an effort to go back in time and save humanity. With a cast of lovable characters (even Princess is a lot of fun) and a fast-paced plot, this book is sure to please readers. Zombie ducks, frobbits, wisecracking daggers, and an intelligent arcade game from the '80s give this story a wonderfully eccentric flair reminiscent of Libba Bray's Going Bovine (Delacorte, 2009). A great addition to any library."
SLJ–Sunnie Sette
New Haven Public Library, CT
---
"This is a great start to what promises to be a magic trilogy that will captivate readers who loved Harry Potter and the Magyk series! "
GoodReads
---
"This Adam Rex-like combination of fantasy, sci-fi, and middle-school anger is infused with absurd humor and wry social commentary, and it will elicit more than a few chuckles from readers familiar with epic fantasy and pop culture. Clark gently parodies Tolkien and Rowling without antagonism and manages to create a wildly diverting world that features golf-obsessed monkeys, claustrophobic dwarves, sentient arcade games, and of course, one very bad unicorn."
Bulletin of the Center for Children's Books
---
"A familiar premise-underdog kid is the only one who can save the world-is put through a satirical shredder. What comes out is action and suspense with a hilarious Monty Pythonesque edge. Multiple points of view keep the plot humming."
SLJ
---
"Fans of speculative fiction, fantasy adventure, classics like Narnia and modern stories of warlocks and witches will howl with laughter as readers recognize old and new tropes of the genre."
Early Word Librarian Connection
---
"The plot is truly complex and laced with action, adventure, and humor. Bad Unicorn was dazzling in a way that makes you think, Wow."
McNally Jackson Kids
---
"Never cross the Zombie Duck, never pet Princess the Destroyer while she's eating, and never–never ever–pass up the chance to read this book! Bad Unicorn is possibly the funniest book I've ever read. Ever. Might I be chained to the Tree of Woe and licked by Fire Kittens if I'm lying."
E.J. Patten
Author of Return to Exile and The Legend Thief