BRILLIANT HUES
Children's Books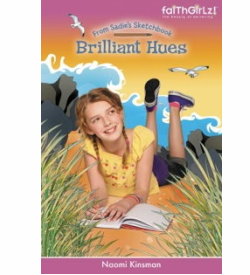 Author:
---
ISBN: 978-0310726685
Publisher: Zonderkidz/FaithGirlz!
Copyright Date: 2012
Rights Retained: Motion picture/television/radio/video; dramatic adaptation; live-stage adaptation
Audience: Ages 9-up
Cover Type: Paperback
Price: $7.99
Pages: 224
Description
Sketching A Whole New Life Won't Be Easy
Life comes full circle for Sadie as she heads back to Menlo Park, California. But Sadie finds she no longer fits in, especially when one of her dad's cases thrusts her into the spotlight and puts her in danger. She turns to her faith, but the youth group just isn't the same, and Sadie has a lot to think about when she hears what some kids believe. She returns to Owl Creek for a reprieve, but everything feels different. She just wants things to go back the way they used to be. Will her faith be strong enough to get her through?