DECK THE WALLS: A WACKY CHRISTMAS CAROL
Children's Books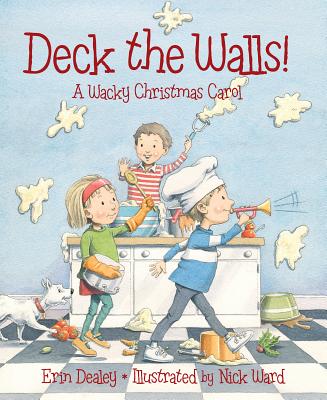 Author:
---
ISBN: 978-1-58536-857-0
Publisher: Sleeping Bear Press
Copyright Date: 2013
Format: Picture Book
Price: $14.99
Description
"This hilarious parody of the familiar Yuletide carol starts with mashed potatoes on the walls and ends with cousins sliding downhill in the snow and the whole family singing carols together. The traditional Christmas song of "Deck the Halls" has a buoyant rhythm but relatively sedate words and images, such as boughs of holly. This version features a group of five cousins who like to mix things up and enjoy their food in some nontraditional ways. As the song begins, the cousins are mashing potatoes, flipping blobs onto the walls. The kids make a snowman out of tomatoes and more mashed potatoes and try olives on their fingers and celery stalks behind their ears. As the family dinner disintegrates, the cousins play olive hockey with celery-stalk sticks; major splashes of gravy result before sensible aunts and uncles intervene. Each line of text is interspersed with the traditional refrain of "Fa la la la la, la la la la" in large type, and the new song lyrics can be sung to the old tune, following along in suitably merry measure. Amusing illustrations and a large format make this a fine choice for singing along with a group, and the traditional words and music are also included.
http://www.erindealey.com
http://www.jodycasella.com/2013/09/interview-with-erin-dealey.html
Reviews
" 'Tis the season to be jolly," after all, and this rollicking parody neatly fits the bill."
Kirkus
---
An engaging visual interpretation of the classic carol from a modern kid's perspective. Readers are greeted with rhyming lyrics, "Deck the walls with mashed potatoes. Fa la la la la…," and delightfully expressive, full-color cartoon illustrations of five rambunctious children playfully slinging spuds in the kitchen while Mom attempts to serve Christmas dinner. "Feed the dog our peas and carrots./Food tastes better when you wear it." Eventually, the adults clean up and Dad and the other "boring" relatives successfully get the youngsters dressed and out to play in the snow. All ends well with everyone singing, "Thankful we are all together! Fa la la la la la la la la." Lyrics and sheet music are included. This over-the-top selection is well suited for storytime or one-on-one.
Maureen Wade
Formerly at Los Angeles Public Library for SLJ