DUST OF EDEN
Children's Books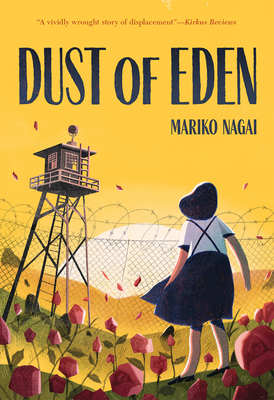 Author:
---
ISBN: 978-0807517390
Publisher: Albert Whitman & Company
Copyright Date: 2014
Price: $16.99
Reviews
"Crystal-clear prose poems paint a heart-rending picture …engaging…earnest, impassioned."
Kirkus
---
"An honest and thoughtful exploration of a complicated chapter in American history … the book's strong narrative voice and solid imagery will help contemporary readers understand those complexities."
Bulletin
---
"Nagai's crystalline phrases, stanzas, lines that barely cover 120 pages prove gorgeously resonating."
Book Dragon at the Smithsonian: http://bookdragon.si.edu/
---
"I love how this story respects its readers. It's a hard thing to know, that the United States once treated our Japanese citizens this way. Mariko Nagai does not soften the reality of what happened, but by giving her main character a loving family and a loyal best friend, she makes it bearable for readers to take this journey with her. This is an important story, beautifully told."
Helen Frost
Printz Award Honoree and author of Salt and Crossing Stones
---
"Nagai's writing is spare and rhythmic – it's real poetry."
The Horn Book Magazine
---
"A vividly wrought story of displacement"
Kirkus Reviews
---
Mina Masako Tagawa is 13, and unexpectedly finds herself wrestling with the question: what do you do when your home country treats you like an enemy? It's early 1942, and her family has been sent from the only home she's ever known in Seattle to an internment camp in Idaho. When she left, her best friend, Jamie, gave her one half of a broken heart friendship pendant; in letters to her friend, Mina struggles to reconcile what she recites every day in the Pledge of Allegiance with the hurt, anger, and fear her treatment provokes.  This powerful novel in verse explores the deep contradictions of the internment and asks the questions of how you build a life worth living in such painful times.
–https://www.amightygirl.com/blog?p=14199
---
Girls of Summer Reading List 2015
http://girls of summerlist.com/
Curated by Meg Medina and Gigi Amateau
This slim volume lays bare some of our nation's difficult history, but it always stays true to the heart of a young girl as she tries to make sense of hate.  I admire this book for its lovely writing, for its gateway to history, for Mina's quiet strength, and for all the ways that her story reminds us of the high cost of fear disguised as patriotism.~MM
---
http://www.mariko-nagai.com/#!dust-of-eden-book-trailer/c1l77
---
"The poetry, compelling and thoughtful, will help readers to better understand the displacement, indignities, and struggles faced by Mina and her family members … an accessible and important historic novel."
http://www.literacyworldwide.org/blog/literacy-daily/2014/04/21/book-reviews-for-national-poetry-month-
---
"This is a hard story to hear, and Nagai lets us in on Mina's troubling experiences in a way that moves and unsettles us. These poems, letters, and brief essays give us a compelling picture … and we come away from the book changed … "
"Mina tells her and her family's story in a simple, restrained way, yet these poems and prose pieces urgently push and pull at us even in their gentle, unassuming manner. The images here will get under your skin. These lyric pieces let you in on a world you may not have fully appreciated before—a world where a young girl's entire life can be turned upside down for reasons that remain unclear even to the adults around her."
"Mina and her family are caught between rage and compliance. They struggle with knowing how to be both defiant and accepting. They question what it means to be both American and Japanese. This a powerful collection of pieces told from a young girl's perspective, and we sense that her struggle to grow up is part and parcel of her struggle to understand and accept the shifts in America's own perception of history and nationhood that are swirling in the Idaho dust all around her."
http://mixeddiversityreads.com/2014/12/27/dust-of-eden-a-novel-in-verse-by-mariko-nagai/
---
A post from Nikki Grimes on her FB:
The 75th anniversary commemorations of Pearl Harbor are underway. At a time when some are calling for the internment of Muslims, it's important to teach young people about the painful history of Japanese internment camps. Here's a novel-in-verse to help you do that. Written from the point of view of a young Japanese American girl, the story takes us into a reality we dare not forget, lest we are tempted to repeat it. Thank you, Mariko Nagai, for penning this important story. Teachers, please bring Dust of Eden into your classrooms
---
Best Older Fiction of 2014 – Chicago Public Library
---
One of the best New Middle Grade Novels of 2014
Christian Science Monitor
http://m.csmonitor.com/Books/2014/0618/25-of-the-best-new-middle-grade-novels/Dust-of-Eden-by-Mariko-Nagai
---
"An important and powerful work that should be on the reading lists of middle-grade educators and librarians."
"I love how this story respects its readers. It's a hard thing to know, that the United States once treated our Japanese citizens this way. Mariko Nagai does not soften the reality of what happened, but by giving her main character a loving family and a loyal best friend, she makes it bearable for readers to take this journey with her.  This is an important story, beautifully told."
—Helen Frost, Printz Award Honoree and author of Salt and Crossing Stones
---
"This historical novel in verse packs a wallop of an emotional punch."
http://fourthmusketeer.blogspot.com/
---