EFRÉN DIVIDED
Children's Books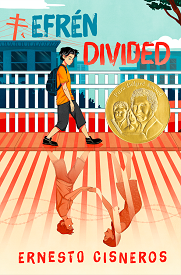 Author:
---
ISBN: 9780062881687
Publisher: Harper Collins/Quill Tree Books
Copyright Date: 2020
Audience: Ages 8-12
Price: $16.99
Pages: 272
Description
Socially timely and morally relevant, EFRÉN DIVIDED
– a contemporary slice-of-life story torn from today's headlines –
is a powerful MG debut …
Efrén Nava's Ama is his Superwoman-or Soperwoman, named after the delicious Mexican sopes his mother often prepares. Both Ama and Apa work hard all day to provide for the family, making sure Efrén and his younger siblings Max and Mia feel safe and loved.
But Efrén worries about his parents; although he's American-born, his parents are undocumented.  His worst nightmare comes true one day when Ama doesn't return from work and is deported across the border to Tijuana, México.
Now more than ever, Efrén must channel his inner Soperboy to help take care of and try to reunite his family.
Notes
Children's Booksellers Celebrate Community Spirit at Final SCIBA
During the breakfast, Ernesto Cisneros, a schoolteacher in Santa Ana, talked about his forthcoming debut, Efrén Divided. His middle grade novel tells the timely story of an American-born middle schooler who watches his mother get deported to Mexico after an immigration raid. Cisneros, himself the child of an immigrant, has seen his relatives' and students' lives disrupted by deportation. The author had written unsuccessfully for a decade until the day his teenage daughter who asked him: "Why does America hate families like us so much?"
Cisneros recounted the rest of the story in the hushed Sheraton ballroom: "The only answer I could give her was, 'Because they don't know us.' And she said, 'Well, why don't you change that?'" The author paused, visibly overcome by the memory. "So, I wrote the book that I thought my daughter would want to read," he said, hoping that Efrén Divided will help middle grade readers cope with this bewildering reality and educate others about his community's experience.
---
---
https://bookbound2020.s3.eu-west-2.amazonaws.com/downloads/BookBound+2020+Programme.pdf
---
#Latinx Week Author Interviews
Q: What do you hope readers, especially from your community, take away from your book or your experiences as an author?
Ernesto: I want each and every one of my readers to understand that we are all part of the same human race. We are brothers and sisters. And for those Latinx children might be seeing themselves on the page for the first time, I want them to feel a sense of pride of who they are and where they come from… and to know that they belong center stage, not on the margins.
---
https://www.bookweb.org/news/indies-introduce-qa-ernesto-cisneros-577242
---
Ernesto stopped by Mr. Schu Reads' blog…
Watch. Connect. Read
Cisneros: I hope Efrén Divided strikes a chord with any Latinx child who yearns to see themselves represented in books. In addition, I hope it helps break down the walls currently being built by hatred and intolerance, and that it provides support and an understanding of the realities immigrating families experience.
---
Ernesto Cisneros' MG Debut Efrén Divided is a Must-Read
Cisneros: I've grown up in the world depicted in the book. I have family on both sides of the border and like Efrén, I struggle to accept why I—and not other family members—was blessed with the fortune (and obvious benefits) of being born a US citizen. Everything in the book comes from either my experiences or those very close to me… My Mom is the very heart of my novel. She's the real soperwoman.
I feel like Efrén Divided belongs more to [my parents] than to myself. They are the ones who left Mexico as teenagers to make a better life for themselves and their children. Any success I have is because of their continuous sacrifice.
---
Q: Please finish this sentence: Middle grade novels are important because…
…they reach children while they are still at work shaping their views of the world. I feel that books can serve as moral compasses that can help instill morals, characters, and empathy—all things the world really needs.
https://latinosinkidlit.com/2020/03/30/spotlight-on-middle-grade-authors-part-14-ernesto-cisneros/
---
Virtual Handselling: Recommendations from Book Passage's Children's Buyer
Efrén is a character everyone will root for while gaining a greater understanding in this tale written with heart and humor about what racist family-separation policies mean to children all over America.
https://www.publishersweekly.com/pw/by-topic/childrens/childrens-industry-news/article/82833-virtual-handselling-recommendations-from-book-passage-s-children-s-buyer.html
---
https://www.youtube.com/watch?v=V-C8wi2jAio&feature=youtu.be
---
---
EFRÉN DIVIDED BY ERNESTO CISNEROS
Posted by Mr. Schu June 24, 2019
Hello, Ernesto Cisneros! I am GRATEFUL you dropped by Watch. Connect. Read. to share Jay Bendt's powerful, memorable, and poignant cover illustration for Efrén Divided.
Ernesto Cisneros: Thank you for having me. I have been a fan of your efforts helping to spread the love of reading to children everywhere. To answer your question, it was not so much a thought, but a mixture of joy and disbelief. Jay did not simply create a beautiful cover, her concept absolutely captured the essence of the story. Like the cover suggests, Efrén's life is divided. At school, he is a happy, kind-hearted student who loves reading—the kind every teacher would love to have in his/her classroom. However, at home, Efrén puts on a brave face as he struggles to look after his brother and sister once his mother is taken away. Sadly, Efrén's story is a reoccurring theme I see too often in the lives of the students I teach.
Scenario: One of the students at the intermediate school where you teach reading and writing spots you holding an ARC of Efrén Divided. He asks you what it is about. How would you booktalk it to him?
Ernesto Cisneros: This is a tough question. I think I would point out from my classroom window, toward the nearby neighborhood, and say: It's simply one of the many stories of families like yours and mine. One of a boy doing his best to help keep his family together at all cost.
I read the following statement on your website: "Life is but a book and you are the author. Make it epic."
Ernesto Cisneros: What I mean by this is simply that we all have stories to tell. Each of our experiences is unique and equally important. In a sense, we are all authors, and EVERY ONE of our stories is worthy of being told—and that is true of everyone, regardless of one's skin color or socioeconomic status.
Please finish the following sentence starters:
I hope Efrén Divided strikes a chord with any Latinx child who yearns to see themselves represented in books. In addition, I hope it helps break down the walls currently being built by hatred and intolerance, and that it provides support and an understanding of the realities immigrating families experience.
Did you know Efrén Nava might be a fictitious character, but his struggles are very real for thousands of children across this country as well as countries all over the world? I would like to think that most of the hate directed at immigrants could be resolved if only we all had the opportunity to know each other and see that we are in fact more alike than we are different.
School libraries are gateways to the soul. Librarians understand that even the most reluctant reader will read if given the right book, something they can relate to… something they can see themselves in. It is my hope that Efrén Divided's universal theme of love and family will connect with all children (and adults too).
Mr. Schu, you should have asked me what inspired this novel, where I got my idea, and why this book is so important to me.
Some time ago, my daughter asked why so much of America was so angry at families like ours for simply trying to make a better life for themselves. "Because they do not know us" was the best response I could give her. And this is pretty much how the book came to be. Not only was it an attempt to have Americans experience America through an entirely different lens, it was also an attempt to let Latino children (my son and daughter included) know that they are worthy of being included on the pages of American literature.
Reviews
"Cisneros paints a vivid and palpable #ownvoices picture of the lost childhoods as children and parents are separated due to immigration issues.  But even as Efren's world seems to be crashing around him, Cisneros celebrates the kindness of the Mexican American community and its richness of food, culture, and resilient spirit.  Honest and tender: a must-read."
-Kirkus Reviews (starred review)
---
"We need books to break open our hearts, so that we might feel more deeply, so that we might be more human in these unkind times.  This is a book doing work of the spirit in a time of darkness."
-Sandra Cisneros, author of The House on Mango Street
---
"This book is, unfortunately, very relevant to our current political climate and to many young readers.  That's what makes it so important.  When Efrén's mother is suddenly deported, he has to figure out home to balance his relationships at school with his new responsibilities at home.  As if middle school wasn't hard enough!  Reading about those most affected by the immigration crisis will make anyone want to take action to change this story to fiction."
-Riley Jay Davis, Next Chapter Booksellers, St. Paul, MN
---
"While filled with plenty of joy (Efrén's goofy best friend is a highlight), Efrén Divided underscores how immediately a life can become unmanageable—unable to tell anyone at school his mother was deported, for fear that his father (also undocumented) will be targeted, Efrén is thrust into the impossible position of needing to act like a grown-up while still being a child.  Author Cisneros holds up a mirror to our world, and readers will see both Efrén and themselves within."
-Bethany Strout, Tattered Cover Bookstore (Denver, CO)
---
"Efrén Divided is such an important middle grade book needed in this climate in which families are being separated. This debut made me feel a range of emotions from anger and sadness to love and hope."
-Robyn Broderick, The Reading Bug (San Carlos, CA)
---
"Efrén is a good kid and the events of his life are that of a regular middle schooler: annoying younger siblings, hanging out with friends, worrying about homework. Until his mother gets deported. Very quickly, Efrén steps into the role that his mother was forcibly vacated and he becomes his siblings' surrogate parent, making me cry several times in the first few pages. It's a well-written account of something very topical and I hope that kids get to read it."
-Jackie Jou, Mysterious Galaxy Books (San Diego, CA)
---
"From Ernesto Cisneros, Efrén Divided is an important, timely, and impactful book that looks at the oft-overlooked impacts of immigration and deportation on the families involved, and while it does not shy away from the difficulties faced, it is also a book filled with hope and courage."
-Nathan Halter, Lahaska Bookshop (Doylestown, PA)
---
"Efrén Divided by debut writer Ernesto Cisneros is a heartfelt tribute to all the children who fear that their parents will be deported – and the story of one boy whose mother is sent back to Mexico. I love Ernesto's clear-eyed sympathy for his characters. He knows deeply what he is writing about, and his connection to his subject shines through brilliantly."
–Rosemary Brosnan; v-p, editorial director; Quill Tree Books
---
"Affecting as it is timely… Cisneros tells this urgent story with focus and heart-wrenching realism, especially concerning the ripple effects of family separation, not just at the border but also among those in the U.S. Cisneros layers in stories of other deportees, underlining the importance of taking part in change as he portrays a community rallying around its most vulnerable members…"–PW Starred Review
---
https://www.publishersweekly.com/9780062881687
---
"Cisneros provides a heart-wrenching and evocative glimpse of what one family's life might look like on both sides of the border. Using down-to-earth characters and authentic scenarios, he tells a story of resilience, strength, and love. VERDICT: In a time full of divisiveness and unknowns, this resonant title will inspire young readers to make a difference, no matter the hardships they face."–SLJ
---
https://soundcloud.com/harperaudio_us/efren-divided-by-ernesto-cisneros
---
The story was born after three of my students experienced ICE raids at their home. Each one of them lost someone that year. I could see the fear and hurt in their eyes. There was so much uncertainty going around, that I knew I needed to do something. That's how Efrén was born—a friend to help my students navigate through the nightmare they were living.
Click here to read Cisneros' full interview with Naomi Kinsman Downing.
---
"Cisneros' debut offers a vivid glimpse into the difficult, tenuous lives of immigrant families, succinctly communicates the heartbreaking impact of deportations, and demonstrates the resiliency of those affected, all grounded in the perspective of a relatable protagonist. This timely middle-grade novel will not only open dialogue with children on the issue of immigration but also encourage conversations on the subjects of kindness, empathy, and activism. A moving novel perfectly pitched to its audience." –Booklist
---
"Debut author Cisneros paints a vivid and palpable #ownvoices picture of the lost childhoods as children and parents are separated due to immigration issues. But even as Efrén's world seems to be crashing around him, Cisneros celebrates the kindness of the Mexican American community and its richness of food, culture, and resilient spirit…Honest and tender: a must read."–Kirkus
---
http://blogs.slj.com/heavymedal/2020/05/11/newbery-suggetsions-prairie-lotus-is-early-leader/
---
"This debut announces an important new writer on the scene."
— Fred Aceves, author of The Closest I've Come and The New David Espinoza
---
"We need books to break open our hearts, so that we might feel more deeply, so that we might be more human in these unkind times. I felt the author was asking each of his readers to be more human, that we were being called to be our own heroes, just as the protagonist is being asked this. This is a book doing work of the spirit in a time of darkness."
— Sandra Cisneros, author of The House on Mango Street
---
"Cisneros handles the timely subject matter with heart, depth, and authenticity."
—Angela Cervantes, author of Gaby, Lost and Found and Lety Out Loud
---
"Efrén Divided feels more than important—it feels essential as we continue to weave diverse narratives into the cloth of the country we call home."
— Guadalupe García McCall, author of Under the Mesquite and Summer of the Mariposas
---
"A moving portrayal of the shame, fear, and uncertainty of a family ripped apart."
— Aimée Medina Carr, author of River of Love
---
"Will inspire young people to action, activism,
and change in their communities." — e.E. Charlton-Trujillo, author of Fat Angie
---
"A soaring tale of resilience."
— Lilliam Rivera, author of Dealing in Dreams and The Education of Margot Sanchez
---
"Will find its way straight into your heart, even as it is breaking."
–Matt Mendez, author of Barely Missing Everything and Twitching Heart
---
"A golden door into crucial conversations we need to have in our classrooms about equity and human rights."
–NoNieqa Ramos, author of The Disturbed Girl's Dictionary and The Truth Is
---
"A stunning, masterful, and timely debut."
—David Bowles, author of They Call Me Güero and The Chupacabras of the Rio Grande
---
"A call to fight for the world as it should be."
—Adrianna Cuevas, author of The Total Eclipse of Nestor Lope
---
"A song sung for children of immigrants. A corrido in their honor."
—Isabel Quintero, author of Gabi, a Girl in Pieces and Mi Papi Has a Motorcycle
---
"This book broke my heart as much as it lifted it … a beautiful seed of heartbreak and joy!"
— Aida Salazar, author of The Moon Within and 
---
"Authentically told, and interwoven with hope, strength, and beauty, Efrén Divided is true to life and all too timely. A must-read for anyone with a heart. This book is a gift to the world." — Sarah Scheerger, author of Operation Frog Effect
---