EVEN MONSTERS
Children's Books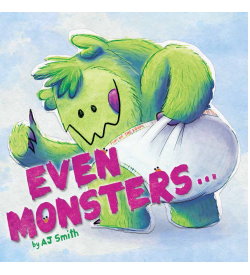 Author:
---
Illustrator:
ISBN: 978-1402286520
Publisher: Sourcebooks Jabberwocky
Copyright Date: 2014
Rights Retained: Merchandise/Commercial, Dramatic Motion Picture, Television/Radio
Audience: Ages 4 to 8
Price: $16.99
Description
Everybody knows monsters can be...well, MONSTERS. But did you know sometimes even monsters get scared? They can be sad, they can be kind, they can miss their mommies. Sometimes, they're just plain silly. And even monsters need to brush their teeth!
A funny and family-friendly picture book by innovative author/illustrator A. J. Smith, who combines traditional storytelling with exciting interactive digital components.
Reviews
"Dr. Frankenstein never quite got around to building this delightfully monstrous app but thankfully, AJ Smith DID!"
Bob Staake
Author/illustrator of Look! A Book!
---
"For kids who love monsters, this app is the 'beast' there is! Just totally fun, kids will love it."
Scott Magoon
Art Director, Houghton Mifflin illustrator/author of Ugly Fish
---
"Kids can be complete monsters when they do not want to change their undies, brush their teeth, or go to school. AJ Smith nails the 3-6 year-old psyche, sense of humor, and need to tap and tinker with this monstorously cool, detailed app and book line-up."
Kirsten Cappy
Curious City
---
"Smith's work has that very rare quality of appealing to both kids and adults. While Even Monsters has a simplicity that is perfect for story time read-alouds it's also layered with hilarious details that readers will enjoy discovering during repeated readings. The app brings to life the loveable characters he's created in the book. "
Laurie Keller
Author/illustrator, The Scrambled States of America