FLUFF DRAGON (The Bad Unicorn Trilogy; Book 2)
Children's Books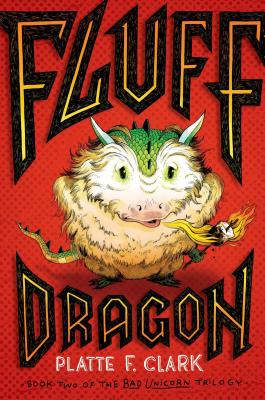 Author:
---
ISBN: 978-1-4424-5015-8
Publisher: SIMON & SCHUSTER/ALADDIN, Polish edition (Wydawnictwo Czy Tam)
Copyright Date: 2014
Rights Retained: Rights retained: Film/Dramatic Motion Picture, Television/Radio
Audience: ages 8 – 13
Price: $16.99
Description
Dubbed "deviously enjoyable" by Publishers Weekly, this second book in the hilarious Bad Unicorn trilogy features killer unicorns, good dragons, rogue fire kittens, and a boy who just might be a wizard.
After defeating a killer unicorn and saving a universe, all Max and his friends want to do is go home. Instead, Max discovers that the Codex of Infinite Knowability has stopped working. He can't use it to get home until he reboots it. The problem is that in order to reboot the book, he's going to have to carry it into the heart of Rezormoor Dreadbringer's Wizard's Tower. Since Dreadbringer has been hunting Max and the book across time and space, getting in may be easy, but getting out will be another story.
Max will just have to find a way to sneak into the tower, avoid the guards, escape Dreadbringer's clutches, and figure out exactly where inside the tower the Codex was created. No problem…right?!
Notes
Platte F. Clark
Author of the Spring, 2014 Middle-Grade Fantasy for ages 8 – 13; the second in a trilogy, launched by BAD UNICORN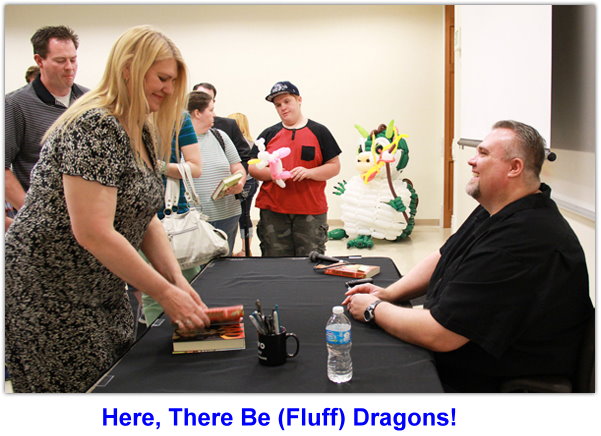 A well-attended launch party for Platte Clark's middle-grade fantasy novel Fluff Dragon (S&S/Aladdin), the second book in the Bad Unicorn trilogy, took place at the Provo City Library in Utah as part of the library's Author Link program. Clark (seated) spoke about the book and signed copies, which were for sale through Brigham Young University's bookstore. Thanks to a local balloon artist, Fluff Dragon himself was in attendance, and kids walked away with balloon swords.
http://www.publishersweekly.com/pw/by-topic/childrens/childrens-industry-news/article/61993-in-brief-april-24.html?utm_source=Publishers+Weekly&utm_campaign=c817c731cf-UA-15906914-1&utm_medium=email&utm_term=0_0bb2959cbb-c817c731cf-304479757
http://books.simonandschuster.com/Good-Ogre/Platte-F-Clark/The-Bad-Unicorn-Trilogy/9781442450189#sthash.cAwtvZYV.dpuf
Upcoming News:
April 15, 2014 (hc): $16.99; 978-1-4424-5015-8
February 24, 2015 (pb): $7.99; 978-1442450165
Reviews
"This is a book that shouldn't work. At first, the book reads like a parody of a fantasy novel. There's an evil unicorn and an evil rainbow and a pair of fire kittens, who threaten to lick their victims on the ankles. The early chapters are hilarious, but humor is a risky strategy: Readers might not take the book seriously when the characters are in danger. But Clark has worked very hard to make sure that the traps are both funny and frightening. The dwarven probability locks are especially clever. They're not locks: "We have two doors in front of us," a character explains; "If we pick the correct one, we will enter the vaults. If we pick the wrong one, we will die instantly. They are both unlocked." … A Bieber joke at about the 100-page mark justifies the entire book. It will be dated by the end of the year, but by then, readers will be eagerly waiting for the next volume."
Kirkus
---
"With its gonzo blend of fantasy adventure and loony threats played seriously (including a zombie duck and a sinister guild of toupee makers), this tale subverts epic quest tropes even as it celebrates them … a deviously enjoyable story."
PW
---
"In this second of the Bad Unicorn trilogy, Max and his friends find themselves in the Malgrus (the magical realm) … readers who bonded with the middle-school characters before will follow their brave, magical exploits here."
J. B. Petty
Booklist
---
"Clark's original settings and characters are fresh and new and are filled with wildly imaginative dialogue and pithy humor. The storyline is clever, and the language is clean and appropriate for all ages…Readers will surely be eager for the final book in the Bad Unicorn trilogy."
Deseret News