FOLLOWING PAPA'S SONG
Children's Books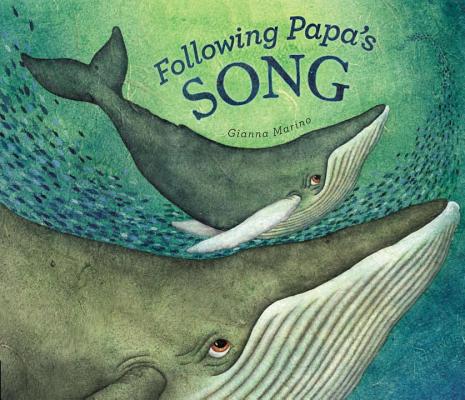 Author:
---
Illustrator:
ISBN: 978-0670013159
Publisher: PENGUIN/VIKING
Copyright Date: 2014
Rights Retained: Motion picture/Television/Radio & Dramatic; Lyric
Price: $16.99
Description
Papa?"asked Little Blue.
"Are we going very far?"
"Yes, Little Blue. We will travel farther
than we have ever gone before."
As two whales swim together through the big ocean, Little Blue has many questions for Papa, especially ones about the long migration. How will they know the way? Will he be able to keep up? What will they see along the way?
Papa has answers for all these questions, but Little Blue remains curious as they begin their journey. What could be down below, where they can't see? The answer is a magical world and Little Blue is enchanted . . . until there is only darkness surrounding the young whale. But if Little Blue is quiet and listens, can Little Blue hear Papa's song?
Filled with the wonders of the ocean and the comfort of a father's presence, Following Papa's Song is a heartwarming story to be read again and again.
Notes
Gianna Marino
Author/Illustrator of the April 3, 2014 picture book; the third of six
http://blaine.org/sevenimpossiblethings/?p=1974
'Top Ten' Spring 2014 Kids' Indie Next List!
Chinese license (Astar Media Productions Co., Ltd.)
http://blaine.org/sevenimpossiblethings/?p=1974 http://www.slj.com/2014/03/reviews/pick-of-the-day/pick-of-the-day-following-papas-song/#_
Chicago Public Library Best of 2014; picture books
Reviews
When the whales make the long migration to their summer feeding ground, first-timer Little Blue is full of questions that betray his anxieties about the journey. His huge, even-tempered Papa is the picture of reassurance, explaining that whales have been migrating "for years upon years," and even if Little Blue gets lost (which he does, carried away by the beauty of the ocean and a burgeoning sense of adventure), he need only listen for Papa's special song. In this thematic companion to 2012's Meet Me at the Moon, Marino's writing is solemn and earnest ("Papa's voice echoed across the sea, through the liquid light and deep into the mysterious black"), but her gouache illustrations are exuberant and gorgeous, with a parchmentlike texture that captures dappling sunlight, murky depths, and the endless energy of the current. This visual eloquence carries over to her portrayal of father and son, as well: even though the whales are seen almost exclusively in profile, their soulful eyes exude unconditional love and a faith in the forces of nature."
PW Starred
---
Little Blue, a young humpback whale, is worried about his first long migration up the coast, and he is scared he will be separated from Papa in the big ocean. As with human families on adventures, Little Blue has many questions that need to be answered and needs to be reassured that everything will be fine. What will they see on their journey? Can Little Blue keep up? How will they know the way? What is down below in the dark areas? Little Blue continues to ask questions, the most pressing of which is "what if I get lost?" Papa reminds him to listen for his song as they travel. But can Little Blue hear Papa's song? Stunning artwork takes readers into the lush, inviting waters filled with marine life swimming effortlessly across the pages. The blend of text and vivid mixed-media illustrations make this original story a heartwarming reminder of how children learn to trust and listen for papas' songs in our lives. This is a story for all ages to enjoy. What a wonderful way to use science in the lower grades. A top choice for any library.
SLJ Starred
Janene Corbin, Rosebank Elementary School, Nashville, TN
---
A young whale awaits the call for his first migration with a mix of concern and anticipation, but Papa's strong reassuring presence and sage advice make for an exhilarating journey.
Little Blue is eager to know how far they will travel, how they will know where to go and how to swim so quickly as they await the signal from other whales. Papa's wise replies teach as well as comfort. When Little Blue hears a sound from afar, Papa signals for them to begin the long swim to their summer feeding ground. "Papa's voice echoed across the sea, through the liquid light and deep into the mysterious black." Marino's text has a lyrical quality that pairs beautifully with the magical mixed-media illustrations created with gouache and textured paper. By varying the perspective in the spreads, she conveys the vastness of the ocean to children. On one, the father and child look rather small moving through a great expanse of turquoise blues, while on another, a close-up of the whales' faces emphasizes the warm intimacy between the pair. Dramatic changes in color signal emotional shifts in the story.
This beautifully executed book about the bond between father and child that can be as deep as the darkest sea and powerful enough to help navigate in times of trouble will resonate with readers both young and old. (Picture book. 3-6)
Starred Kirkus
---
"A gorgeous, comforting book that provides a lovely counterpoint to Marino's Meet Me at the Moon."
Booklist
---
"From the mystery of the sea comes this delightful tale of Little Blue, a curious young whale who ventures out a little too far alone, only to remember the wise words of his father. The vivid illustrations help us to visualize Little Blue's journey both with his father and when he goes out on his own. Children will love the serenity of this story."
-Kathy Taber
Kids Ink, Indianapolis, Ind