GOOD OGRE (The Bad Unicorn Trilogy; Book 3)
Children's Books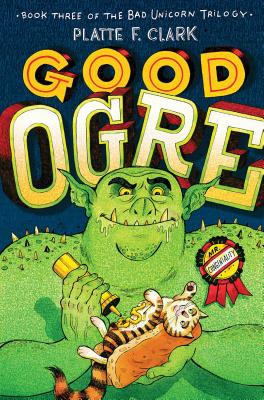 Author:
---
Publisher: SIMON & SCHUSTER/ALADDIN, Polish edition (Wydawnictwo Czy Tam)
Copyright Date: 2015
Rights Retained: Film/Dramatic Motion Picture, Television/Radio
Price: $17.99
Description
Max is finally home in Madison, but the magical mayhem is just beginning in this conclusion to the hilarious trilogy that started with Bad Unicorn and Fluff Dragon, which Publishers Weekly called "deviously enjoyable."
After saving an entire world—three, actually—it's no wonder Max can't seem to get settled back home in Madison, where the most daunting threat is ending up in remedial gym if he can't climb a rope fast enough. Then a new kid named Wayne rescues Max from the school bullies, and a new option for adventure appears. Wayne says he's from the magical world, the Magrus, and that Max is needed there. He can go back and be the powerful wizard of his dreams!
But when Max opens a portal between the two worlds, he finds out that things are not what they seem. A powerful storm starts turning the residents of Madison into monsters and Max's friends into characters out of an online game. Then Max learns that the Maelshadow, a being of pure evil, plans to use the portal to invade the planet and make it his own.
Can Max and his motley crew put a stop to his plans? Or has this spellcaster's luck finally run out?
Notes
Platte F. Clark
http://books.simonandschuster.com/Good-Ogre/Platte-F-Clark/The-Bad-Unicorn-Trilogy/9781442450189#sthash.cAwtvZYV.dpuf
Author of the Middle-Grade Fantasy for ages 8 – 12
Book #3 of the Bad Unicorn trilogy
Good Ogre (The Bad Unicorn Trilogy; Book 3)
Hardcover ISBN 978-1442450189, price $17.99
Paperback ISBN 978-1442450196, price $7.99
Upcoming News:
Hardcover ISBN #978-1442450189 – $17.99
Paperback ISBN #978-1442450196 – $7.99