8 GRUMPY GLORIA
Children's Books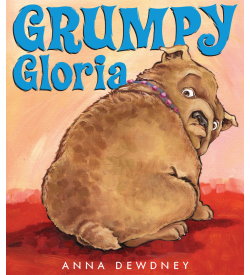 Author:
Anna E. Dewdney Literary Trust
---
Illustrator:
ISBN: 0-670-06123-9
Publisher: Viking/Penguin Young Readers Group
Copyright Date: 2006
Format: Fiction
Price: $15.99
Description
Kids and dog-lovers will be heartily amused by Dewdney's hilarious rhyming story and energetic illustrations, of Gloria the bulldog pouting over the arrival of a brand-new doll to compete for her owner's attention.
Sullen, scowly, sulky, slumpy, Gloria was staying grumpy …
Notes
NYT Bestselling Author/Illustrator
www.annadewdney.com/Annas_website/Pangolins%21.html
In ABC, Read to Me!, acclaimed author and librarian Toni Buzzeo offers educators a way to contextualize and enhance Letter of the Week instruction through the use of children's literature. From A to Grumpy Gloria to Z, Toni Buzzeo's book offers an array of delightful picture book suggestions, as well as a variety of engaging reading, writing, thinking, and creative activities to accompany each letter of the alphabet.
Reviews