I'M MAX & I'M MAD
Children's Books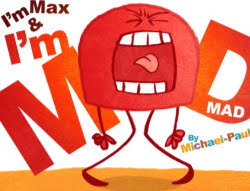 Author:
---
Description
Award-winning Michael-Paul Terranova graduated with honors from the Art Center College of Design. And with the launch of Curious Circus, http://curiouscircus.com/, he's now a digital publisher of children's picture books and apps, fully embracing and fostering the intersection of digital formats and technology. OH; and with augmented reality features to come!
This interactive environment makes Curious Circus the industry leader in online apps and concept picture books for children. Now, we're taking Michael-Paul and Curious Circus into the printed arena. Think deceptively simple and endlessly entertaining content with lots of extension opportunities.
For example, here's the Kirkus endorsement of MAX'S TEMPER TURNAROUND, which we've developed in book form to I'M MAX AND I'M MAD.
"A well-designed and humorous concept book shines with just a few well-chosen effects … Readers will be G-LA-D that they accompanied Max on his barely restrained rampage and subsequent cool down."
Here's a link to the app: http://itunes.apple.com/us/app/maxs-temper-turnaround/id455592472?mt=8
And the link to the Kirkus review: http://www.kirkusreviews.com/book-reviews/michael-paul-terranova/maxs-temper-turnaround/.
The SOUNDS WE MAKE is a basic exploration of assorted bodily sounds, including—and perhaps featuring—those considered "rude."
And that's just the beginning! In all of the books, there are vibrant graphics, big swaths of white space and bold, black energetic text. The effects are very simple yet very effective.
Michael-Paul currently lives in Southern California with his wife and daughter, two dogs and a private collection of children's books that rivals that of most local libraries.