INTO THE DARK-The Hidden World of Film Noir, 1941-1950
Adult's Books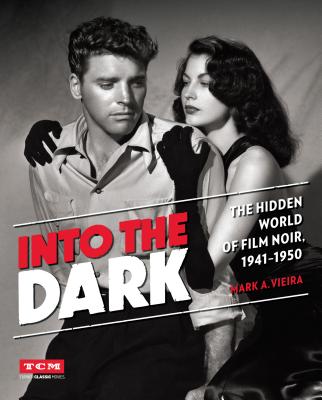 Author:
---
Publisher: Running Press
Description
Into the Dark: The Hidden World of Film Noir, 1941 to 1950 is the first book to tell the story of film noir in its own voice. Mark A. Vieira uses unpublished images and unheard voices to transport you to the 1940s. Profiling eighty-two films, he shows the evolution of the genre we know as film noir, pulling pithy, nasty quotes from filmmakers, journalists, and exhibitors.
This is time travel, a ticket to a smoky, glamorous world. You enter a story conference with Billy Wilder and Raymond Chandler, visit the set of Laura, and watch Mildred Pierce with a preview audience. Into the Dark is the first book to recreate the environment that spawned film noir.
Do audiences say "Eek!" when a femme fatale is almost caught? They did in 1944. Into the Dark tells how Double Indemnity grabbed a nervous audience in Brooklyn. This is the first book to show how the genre was welcomed by the public and tallied by exhibitors. There was a consensus: something different was coming from Hollywood.
In 1944 Edwin Schallert wrote in the Los Angeles Times that the trend toward "honesty" had begun in 1941—with Citizen Kane and The Maltese Falcon. When critics wrote about "crime," "mystery," and "hard-boiled" films, these films were cited as the first, so 2016 marks the seventy-fifth anniversary of film noir.
Into the Dark is the first noir book to display the wit and warmth of its artists. Hedda Hopper reports on Citizen Kane,calling Orson Welles "Little Orson Annie." Bosley Crowther calls Joan Crawford in Possessed a "ghost wailing for a demon lover beneath a waning moon." An Indiana exhibitor rates the classic Murder, My Sweet a "passable program picture."
Finally, Hollywood legends like Barbara Stanwyck and Orson Welles speak about film noir, putting a frame on the flashback. Into the Dark is the first book to convey the mystery, glamour, and irony that make film noir a surpassingly popular genre.