Irving Thalberg: Boy Wonder to Producer Prince
Adult's Books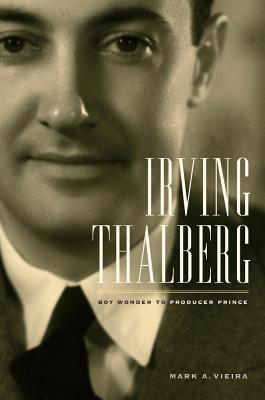 Author:
---
ISBN: 978-0520260481
Publisher: University of California Press
Copyright Date: 2009
Cover Type: Hard Cover
Price: $42.00
Pages: 528
Description
Hollywood in the 1920s sparkled with talent, confidence, and opportunity. Enter Irving Thalberg of Brooklyn, who survived childhood illness to run Universal Pictures at twenty; co-found Metro-Goldwyn-Mayer at twenty-four; and make stars of Lon Chaney, Norma Shearer, Greta Garbo, Joan Crawford, Clark Gable, and Jean Harlow. Known as Hollywood's "Boy Wonder," Thalberg created classics such as Ben-Hur, Tarzan the Ape Man, Grand Hotel, Freaks, Mutiny on the Bounty, and The Good Earth, but died tragically at thirty-seven. His place in the pantheon should have been assured, yet his films were not reissued for thirty years, spurring critics to question his legend and diminish his achievements. In this definitive biography, illustrated with rare photographs, Mark A. Vieira sets the record straight, using unpublished production files, financial records, and correspondence to confirm the genius of Thalberg's methods. In addition, this is the first Thalberg biography to utilize both his recorded conversations and the unpublished memoirs of his wife, Norma Shearer. Irving Thalberg is a compelling narrative of power and idealism, revealing for the first time the human being behind the legend.
Reviews
"Vieira has accomplished something quite extraordinary. . . . This is the definitive volume about a towering figure in the history of Hollywood."
Leonard Maltin 
Leonard Maltin's Movie Crazy 2009-12-02
---
"Vieira has written the definitive biography of Thalberg."
STARRED REVIEW – Teri Shiel 
Library Journal 2009-10-15
---
"The third biography of Thalberg, and far and away the most thoroughly researched, comprehensive, and penetrating . . . as close to definitive as any biography of Irving Thalberg is likely to get."
Joseph Epstein 
The Weekly Standard 2010-01-18
---
"Vieira writes with great verve and enthusiasm, and he has a flair for narrative movement that suits these exponents of the new storytelling . . . well written and extensively researched."
David Thomson 
New Republic 2010-03-25
---
"Among the many virtues of Mark Vieira's biography is the use he makes of the story conferences preserved in the MGM archives."
The Economist 2009-11-12
---
"Vieira's work is both exhaustively researched and beautifully presented, rich in detail yet compulsively readable. If you want to know about Hollywood's Golden Age, then you must know about Thalberg. And if you want to know about Thalberg, then you must read this book."
Anthony McKenna 
Screening The Past 2011-06-01
---
"This is a worthy, well-documented account of [Thalberg's] life."
R. D. Sears 
Choice 2010-07-01
---
"A well-researched and readable biography."
David Yezzi 
Wall Street Journal 2009-11-10
---
"This is a sympathetic, diligent, and intelligent account of a wondrous era in Hollywood."
Jewish Book World 2010-09-01
---
"Vieira has put the enigmatic producer back in the spotlight with his biography . . . a thorough and readable book."
Matthew Rovner 
Forward 2010-02-26
---
"Vieira's excellent biography reveals a master player…[and] sheds much needed light upon significant, influential life."
Magill's Literary Annual / Salem Press 2011-02-04
---
"The jury has been out for 70 years on the MGM studio chief, even though F Scott Fitzgerald immortalised him as the "last tycoon". Was Thalberg art's gift to Hollywood, with his well-bred epics (Romeo and Juliet, Marie Antoinette)? Or was he a mogul playing to the middlebrow? Read this impressively researched study and decide."
Nigel Andrews 
Financial Times 2010-06-26
---
"An engaging new biography . . . an unusually animated and revealing tour of Hollywood in the 1920s and '30s."
Noah Isenberg 
Bookforum 2009-12-01
---
"An important book on a pivotal figure in Hollywood history. . . . Vieira's biography is an invaluable resource."
Camille McCutcheon, University of South Carolina Upstate 
Jrnl Of American Culture 2012-12-01
---
"Vieira takes students of movie history deep into the bowels of MGM."
Robert Fulford 
The National Post 2010-01-11
---
"A fast-paced and well-researched new biography of Thalberg."
Kent Jones 
Film Comment 2010-04-01
---
"I thought I knew the story of Irving Thalberg, Hollywood's fabled boy wonder, but I learned a lot from this well-written, diligently researched book. Mark Vieira immerses us in Thalberg's life and career and sheds new light on the workings of Metro-Goldwyn-Mayer at the peak of its powers. This is an altogether remarkable piece of work. "
Leonard Maltin
film critic and historian
---
"Mark A. Vieira's book is exceptionally well researched and makes a tremendous contribution to our understanding of an extraordinary era."
Kevin Brownlow
film historian and filmmaker
---
"Being the son of David O. Selznick and the grandson of Louis B. Mayer, I have read many books about Irving Thalberg, but none has brought this elusive figure to life as does Mark A. Vieira's. Because he had access to Norma Shearer's memoir notes and because he painstakingly reconstructed each year of Thalberg's brief life, a new figure emerges. Where before we saw a gentle and sensitive man who devoted great care to his films, we now see fierce concentration, arrogance, impatience with stupidity, and a compulsion to oversee every detail of every MGM film. Whatever it cost—and it cost him his health—it resulted in a body of work unprecedented in the history of the medium. I found Irving Thalberg compelling reading and masterly in its ability to keep me reading chapter after astonishing chapter."
Daniel Mayer Selznick
film historian and filmmaker