ISABELLA GIRL IN CHARGE
Children's Books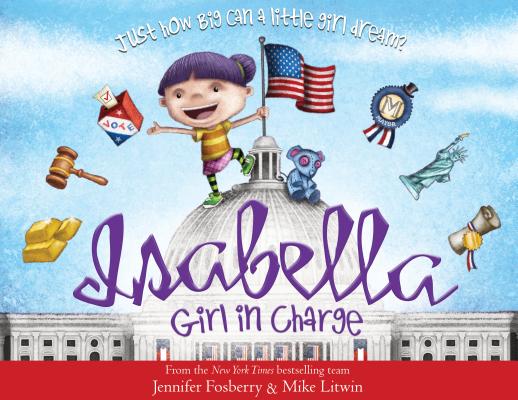 Author:
---
ISBN: 978-1-4926-4173-5
Publisher: Sourcebooks Jabberwocky
Price: $16.99
Description
Plucky, purple-haired Isabella, star of the New York Times
bestselling picture book series, is back for another adventure!
Just how high can a little girl dream?
Notes
Jennifer Fosberry knows how to create and brand characters: think the 6-book series based on the New York Times bestselling franchise launched by My Name is Not Isabella, and further established by the fifth book in the series, Isbella Girl in Charge.
OH; and not only is ISABELLA a Mighty Girl Top 100 Pick …
http://www.amightygirl.com/mighty-girl-picks/top-picture-books?utm_source=newsletter&utm_medium=email&utm_campaign=20170414&ts=20170414
… ISABELLA is also one of 25 Books on Women in Politics:
Remember the Ladies, indeed!
… Jen's on Chelsea Clinton's radar, too!
https://twitter.com/ChelseaClinton/status/853983879933440000
The "Isabella" books have recently been selected for NYC Reads 365, a city-wide, multi-year initiative literacy program to promote daily reading, as well.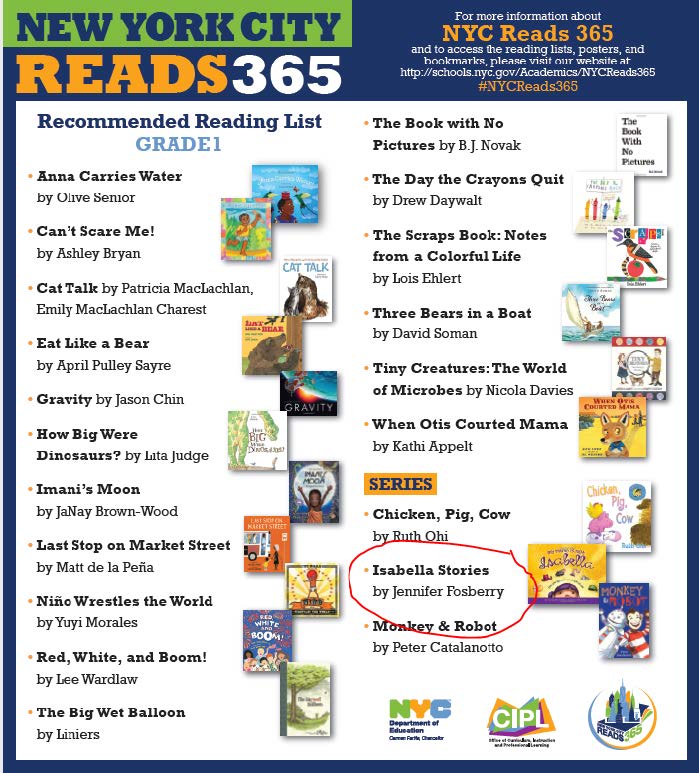 Educator guide:

https://cdn.sourcebooks.com/assets/downloads/libraryresources/IsabellaGirlInCharge-EduGuide.pdf
Reviews
"Fosberry's spunky spokeswoman for women knows her stuff, and she gives Isabella's mother some clever puns on the accomplishments of these historic women. " – Books For Kids
---
"This book helps shine a spotlight on history-making female politicians. I love that it shows examples of real-life women politicians in a fun way but also has a detailed timeline of the actual history of women in politics at the end. " – Crafty Mama
---
"If you're looking for a gift to inspire the future female leader in your life, consider… Isabella: Girl in Charge … the book itself provides a great way to incorporate mini history lessons and to encourage girls to dream big. " – Motherhood Moment
---
"With a spunky female heroine as the star, it's no wonder Fosberry's "Isabella" series is so popular…a boisterous girl-power book for the ages." – Lee Littlewood, Creators Syndicate
---
"There's lots of fun wordplay ("Let's vote on breakfast." "Capital idea!") … throughout this delightful, empowering picture book, ending with a time line and bios for each of these amazing women." – Good Reads with Ronna
---
"The heroine of My Name Is Not Isabella highlights pioneering women in American politics… Biographical background about each politico and a timeline of other female firsts round out a light introduction to women's role in U.S. political history." – Publishers Weekly
---
"I think this book is a fantastic way to introduce kids, boys and girls alike, to some women who have shaped US history through their role in politics. I like the extended biographies at the end of the book, since many of these women were new names to me as well." – Growing My Kids Reviews
---
"I have read other books in the Isabella series, and I love how she imagines herself to be lots of different characters and even real people. It is interesting to learn about the many different ways a girl could grow up to be a leader. – Susan Faith, Age 8" – Kids Book Buzz
---
"A solid addition to elementary library collections." – Diane Hance, Grisham Middle School Librarian (TX)
---
"I loved it.  Dream big, girls!" – Emily Harris, Siouxland Public Libraries (SD)
---

https://www.amightygirl.com/blog?p=11162
---