JINGLE THE BRASS
Children's Books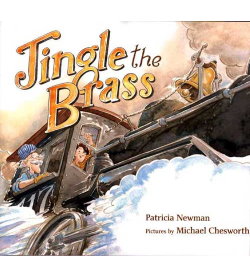 Author:
---
Format: Picture Book
Description
Step back in time to Ruby's hash house and put on the nosebag with the boss hogger. He'll tell you he likes his eggs with headlights, but if you want scrambled, just order wreck on the main line. Follow him as he and his ashcat warm up the engine at the roundhouse and hitch her up to a jigger. Then jingle the brass and ride the point. . .Get ready to feel the wind in your hair as the rods start flashing. . .
Learning the lingo is just part of the fun, because now you're railroading!
Recommended by the Smithsonian Museum of American History
Notes
Teachers & Librarians: A CCSS-aligned teacher guide is available for your use either independently or in conjunction with Patricia's visit to your school. Jingle the Brass incorporates several curriculum themes, such as transportation, travel, trains, the transcontinental railroad, the industrial revolution, and intergenerational communication. Plus check out the Smithsonian National Museum of American History Activity Guides. (Accelerated Reader List book)
SecretBuilders Hidden Difference game invites train-lovers aboard engine #417 and into the wonderful world of steam locomotives. A fun way for kids to fall in love with reading and literature. Great for developing visual and spatial problem solving skills. Three different modes for all ages and skill levels: beginner, expert and genius
Apple devices: coming soon
Android devices: Free demo Full app
Kindle: Free demo Full app
JINGLE THE BRASS (FSG) is recommended by Minnesota State University, Moorhead list, of Best Read Alouds (ages 9-12): http://web.mnstate.edu/cmc/BestReadAlouds/Ages9Through12.cfm.
A Junior Library Guild Selection recommended by the Smithsonian National Museum of American History