9 LITTLE EXCAVATOR
Children's Books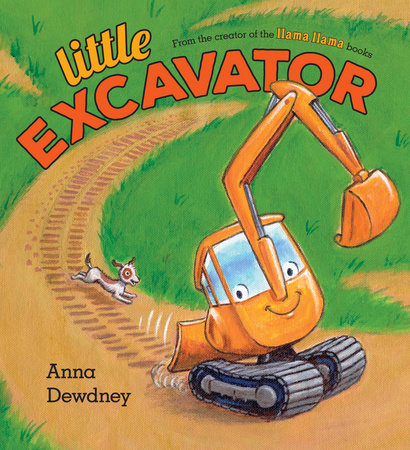 Author:
Anna E. Dewdney Literary Trust
---
Illustrator:
ISBN: 978-1-101-99920-2
Publisher: Viking Books for Young Readers/Penguin Random House
Copyright Date: 2017
Price: $17.99
Description
From New York Times bestselling author-illustrator of the Llama Llama books comes a new character ready to dig his way into your heart!
Here come the BIG RIGS
rolling down the street.
Thumpa-thumpa
bumpa-bumpa
BEEP! BEEP! BEEP!
There's Loader and Dump Truck, Backhoe and Crane. They're ready to transform a vacant lot into a neighborhood park. And who wants to help most of all?
Little Excavator! But are there any jobs for someone so small?
Anna Dewdney's signature rhyming text and inviting illustrations make this a perfect read aloud for for fans of things that go!
Notes
blogs.wsj.com/speakeasy/2016/10/18/first-look-anna-dewdneys-cover-for-her-book-little-excavator/
From New York Times bestselling author-illustrator of the Llama Llama books comes a new character ready to dig his way into your heart!
The Best Children's and YA Books of June 2017 by the Brightly Editors
A wonderful story from the beloved Anna Dewdney that reminds kids that you don't have to be big to make a big impact. Little Excavator, or Little E, isn't quite sure where he fits in amongst the big rigs like Bulldozer and Dump Truck. He can't do any of the things they can do. He's just too small. But there is one thing that he can do that the others can't, a job that's just the right size for him. With Dewdney's familiar illustration style and amazing ear for rhyme coupled with construction vehicles and scenes, Little Excavator is sure to scoop up tons of fans.
An inspiring picture book that's just right for construction-loving kiddos.
Young readers are transported to a construction site where they meet Little E, a small excavator with big aspirations, and his big rig friends. Little E is ready to pitch in on the construction site, but it's hard to find room to work with such loud, strong machines motoring around. He tries to lift and lug and dig, but he just can't seem to do the stuff his bigger friends can. Until, finally, there's one last construction task to be done … and the job's a perfect fit for Little E.
http://www.readbrightly.com/brightly-storytime-little-excavator/?sid=302&mcg=455A8B1C0C800BA3E0534FD66B0A8016&ref=PRH0563577803&aid=randohouseinc13256-20&linkid=PRH0563577803&cdi=23CF0FA7FF052BF3E0534FD66B0A902E
A little digger who'll scoop up your heart! Our new Bookshelf Must-Have pick is a story straight from the construction site that's perfect for vehicle-lovers and any kid who knows what it's like to be little in a big world. With fun-to-read rhymes and a sweet ending, this one is sure to take a starring turn in your read-aloud rotation.
Beloved for her Llama Llama books and praised for her excellent ear for rhyme and warm, inviting illustrations, Anna Dewdney was a standout in the world of children's literature. Her talents live on in her stories, and we readers are fortunate to be able to discover new ones, like Little Excavator, one of Dewdney's final books. Little Excavator, or Little E, wants to help the big rigs with their very important work. But try as he might to Whammm! like 'Dozer and Drroooom! like Dump Truck, he can't. He's just too small. But just when it seems like there's no place for someone his size, Little E finds a job that fits him just right. With construction vehicles a-plenty, rhymes and sounds that are tailor-made for reading aloud, and a story bursting with Dewdney's signature empathy and charm, this one is sure to be a hit with the preschool set and their parents.
5 New Releases for Your Summer Must-Read List
http://redtri.com/new-books-for-summer-reading/
If You Like Goodnight, Goodnight Construction Site, You'll Love:
Little Excavator by Anna Dewdney
For fans of building and construction, or just fans of Dewdney's, this sweet gem might bring a tiny tear to your eye with its signature rhyming text so true to Dewdney's style and her darling illustrations. Meet Loader, Dump Truck, Backhoe, Crane and the littlest one of all, Little Excavator, who is small but mighty.
Reviews
"Dewdney…has left a marvelous legacy, including this latest charmer"
Booklist
"A Solid Winner"
Kirkus – Starred Review
A petite excavator named Little E finds his place among a crew of full-sized, heavy-construction equipment working together to build a park. The anthropomorphic Little E, with bright, friendly eyes and a cheery smile, invites readers into the story on the large-format cover. He is followed by a brown-and-white-spotted dog, which appears throughout the story as a friend to Little E. The construction vehicles arrive at an abandoned lot and begin working together to transform the property into a park. The rollicking, rhyming text names each type of rig and its function, including lots of sound effects and action verbs set in display type integrated into the illustrations: "Pusha-pusha smusha-smusha SMASH SMASH SMASH!" Little E tries to help with each step, but he is either too small or not strong enough for the task at hand. The last step of the park-construction project is the planting of a tree on an island reached by a bridge, but all the big rigs are too large to safely cross the wooden bridge. In a pitch-perfect conclusion, Little E is just the right size for the job. Dewdney, the late author/illustrator of the Llama Llama series, has constructed a solid winner for one of her final books, with an appealing main character, vibrant illustrations with varying perspectives, and an action-packed, rhyming text with sound effects just begging to be read aloud with dramatic effect. An A+ for Little E and his creator.
Kirkus – Starred Review
"It's impossible not to root for him"
Publishers Weekly
"Little E, the smallest construction vehicle at the site of a future park, is eager to do his part in this raucous rhyming outing from the late Dewdney (the Llama Llama series), which is stuffed with noisy vehicular sound effects. "Little E tries lifting up some junk junk junk!" she writes, but the load is too much for him, and "there goes Little Excavator—over with a clunk!" The big trucks are kind and ready to rescue him, but they're also busy (children will almost certainly think of the adults in their own lives), and it proves dispiriting for Little E to be constantly reminded that he's neither independent nor helpful ("Not yet, Little Excavator… Someday when you're big"). The story is familiar, but Dewdney's little hero is so chipper and gung-ho—he breaks into a small, confident smile whenever he's had a success—that it's impossible not to root for him. When he finally gets a job that's a perfect fit for his diminutive size, his happiness and the bow he takes are both well deserved."
PW
"Little Excavator provides a welcome twist to the traditional construction site tale, proving that no one is too little to make a difference. It's time to build a park, but it doesn't seem like Little Excavator can do anything. There's always someone stronger or taller or just plain bigger. But for some jobs, little is just right. Dewdney's charming paintings provide this sweet story with characters kids will want to visit again and again."
Sarah Holt
Left Bank Books, St. Louis, MO
http://www.bookweb.org/news/summer-2017-kids%E2%80%99-indie-next-list-preview-36142?utm_source=Publishers+Weekly&utm_campaign=049e7c9f6f-EMAIL_CAMPAIGN_2017_05_18&utm_medium=email&utm_term=0_0bb2959cbb-049e7c9f6f-304419529
"Dewdney excelled at pairing rhyme with heartfelt artwork to convey her character's emotional journeys. The same skills are on display in "Little Excavator," as the book's determined protagonist struggles to help transform a vacant lot into a neighborhood park. Dewdney's drawings of construction vehicles are as expressive as her llamas, and when Little Excavator beams with pride at the end of the book, the reader will feel the warmth."
New York Times Book Review (review May 12th)
https://www.nytimes.com/2017/05/12/books/review/new-picture-books-for-young-vehicle-lovers.html
New Picture Books for Young Vehicle Lovers – The New York Times
Nine new picture books take adventurous children out for a ride.
www.nytimes.com
"Dewdney's drawings of construction vehicles are as expressive as her llamas, and when Little Excavator beams with pride at the end of the book, the reader will feel the warmth."
"The cheerful, anthropomorphized machines are illustrated in Dewdney's signature, child-friendly style, and there is onomatopoeia galore as each truck is introduced and gets to work."
SLJ