3 LLAMA LLAMA AND THE BULLY GOAT
Children's Books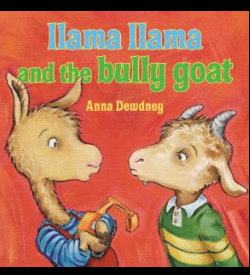 Author:
Anna E. Dewdney Literary Trust
---
Illustrator:
ISBN: 978-0670013951
Publisher: PENGUIN/VIKING
Copyright Date: 2013
Cover Type: Hard Cover
Format: Picture Book
Price: $17.99
Pages: 40
Description
Llama Llama is learning lots of new things at school and making many friends. But when Gilroy Goat starts teasing him and some of their classmates, Llama Llama isn't sure what to do. And then he remembers what his teacher told him—walk away and tell someone. It works! But then Llama Llama feels badly. Can he and Gilroy try to be friends again?
Notes
The seventh (of ten) in the LLAMA LLAMA picture book series
Audible Audio edition
http://blogs.wsj.com/speakeasy/2013/08/07/why-reading-to-children-is-crucial-not-just-for-literacy/
Reviews
Dewdney's lovable Llama Llama offers children one strategy to combat bullying, all couched in her trademark rhyming verse and presented through situations that are sure to resonate with those new-to-school."
Kirkus