9 LLAMA LLAMA HOLIDAY DRAMA
Children's Books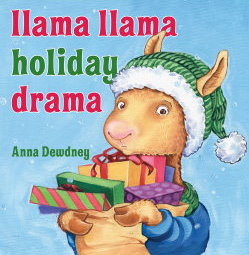 Author:
Anna E. Dewdney Literary Trust
---
Illustrator:
ISBN: 978-0-670-01161-2
Publisher: Viking/Penguin Young Readers Group
Copyright Date: 2010
Format: Fiction
Price: $16.99
Reviews
"A real charmer that will leave preshoolers giggling and parents appreciating the familiar scenario."
Booklist
---
"Adorable and endearing … a perfect choice for preschool read-alouds."
Kirkus
---
"Playful, expressive illustrations perfectly match the rhyming text to portray Llama Llama's and Mama's exasperation during a shopping expedition. It's a wonderful follow-up to the popular bedtime story Llama Llama Red Pajama. The message will appeal to parents and toddlers, and it's easy to read aloud over and over again.
Andi Allen
Piece of Mind Books, Edwardsville, IL