MEET ME AT THE MOON
Children's Books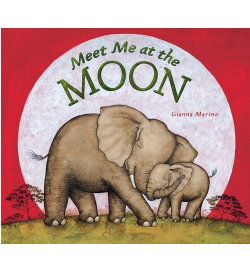 Author:
---
Illustrator:
ISBN: 978-0670013135
Publisher: Viking/Penguin Young Readers Group
Copyright Date: 2012
Rights Retained: Motion picture/Television/Radio & Dramatic; Lyric
Audience: Ages 2 and up
Price: $16.99
Pages: 40
Description
A heartwarming love story between mother and child
When Mama Elephant must leave Little One to ask the skies for rain, the young elephant is worried. Who will care for Little One? Who will sing Mama's special songs? When will she return?
Mama is very reassuring - Little One will hear her song on the wind and feel her love in the warmth of the sun, and, after the rains come, they will meet where the moon sets.
Exquisitely illustrated and supremely comforting, MEET ME AT THE MOON is a mother and child love story to be enjoyed again and again.
Reviews
In this reassuring and richly illustrated book about separation, a mother elephant tells her Little One that she must leave and "climb the highest mountain to ask the skies for rain." "What if I can't hear you, Mama?" Little One asks. "Listen for my sound on the wind," she answers. "But Mama, I won't be able to see you," the small elephant says later. "If we both look at the same star, it will be as if we are seeing each other," she replies. Marino (One Too Many) crafts gorgeous, textured paintings suffused with the golden sunlight of the African plains—except, of course, at night, when a giant, milk-white moon hangs in the sky. The elephants' giant, wrinkled bodies dominate gentle scenes of mother-and-child affection; distant giraffes and zebras move to the foreground after Little One's mother leaves, lending comfort to the small elephant. When rain finally arrives but Mama doesn't return, Little One is bereft until he remembers to "sing the calling song" that brings her back. Marino's breathtaking panoramas make an already powerful story sing.
PW starred review
---
Radiating warmth and comfort, this distinguished title strikes home.
Kirkus STARRED review