MY NAME IS NOT ALEXANDER: JUST HOW BIG CAN A LITTLE KID DREAM?
Children's Books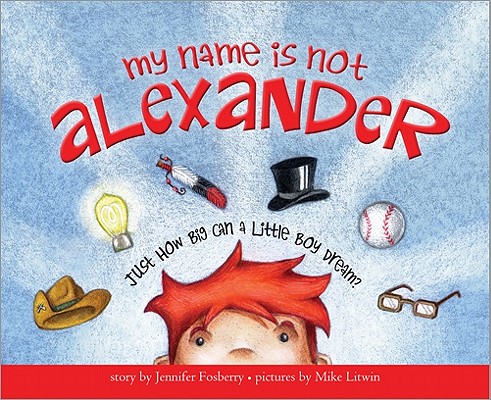 Author:
---
ISBN: 978-1402254338
Publisher: Sourcebooks Jabberwocky
Copyright Date: 2011
Audience: 4 - 8 years / Preschool - 3
Price: $16.99
Pages: 32
Description
Alexander takes a rip-roaring historical adventure! Through his imaginative journey, Alexander discovers how great men become heroes: the roughest rider can be surprisingly gentle, a strong leader is also the most peaceful, and sometimes, being brave about what makes you different will not only help you break records, but inspire others.
Join Alexander as he learns how these remarkable men changed the world and encouraged him to find the hero within himself.
Reviews
"Just like her previous book, My Name is Not Isabella, this book is an amazing book that encourages a child to dream and be more than they can be."
Dad of Divas 2011-02-27
---
"We couldn't wait to turn the page to see who Alexander was going to be next."
Song Berries 2011-03-01
---
"[Provides] quality time teaching a child [while] having fun. I will definitely recommend this book to my friends and family with children."
Z's Space Reviews 2011-03-01
---
"Going through so many important characters in history this little guy's imagination keeps him going places and going strong."
Creative Madness 2011-03-01
---
"Join Alexander as he takes a wild ride through an historical journey, discovering scientists, rough riders and heroes, all in a day's imaginings."
Charlotte Parent 2011-03-01
---
"One thing that I really like about these two books (Isabella and Alexander) is that the writing level appeals to young children, but the information at the back of the book educates them at a fairly high level."
Infant Bibliophile 2011-03-05
---
"This book empowers children to realize their true capabilities, while still letting their own personality radiate."
One Momma Saving Money 2011-03-06
---
"This book not only introduces kids to historical figures, but inspires them to learn from their heroes' actions. Children will realize that they have a lot in common with the great people who have changed the world. If you're looking for a book that encourages your child to chase big dreams, then I highly recommend My Name Is Not Alexander, by Jennifer Fosberry."
Susan Heim on Parenting 2011-03-07
---
"To say I highly recommend My Name Is Not Alexander being in your family's library is an understatement. I will be holding on to my book to share with my future grandkids since my boys are a bit old for it. I enjoyed everything about it!"
Woven by Words 2011-03-06
---
"Discover your hero as Alexander learns how these remarkable men changed the world and inspire him to do the same."
I Am Modern 2011-03-08
---
"Alexander is cheeky and cute. The illustrations are vibrant and full of detail, and the content is knowledgeable and fun-the perfect intro for your kid when it comes to some of his-tory's biggest names."
Time Out Chicago Kids 2011-03-08
---
"Alexander pretends to be Thomas Edison, Fred Astair and other great men. I know how much fun it is to pretend and so do the kiddos."
Crazed Mind 2011-03-08
---
"A wonderful thought provoking book."
Susan's Disney Family 2011-03-08
---
My Name is Not Alexander is a fun, inviting way to introduce children to a few key men in American history and culture.
The Oregonian 2011-03-09
---
"My Name Is Not Alexander has a one word moral – nurture."
Here and There 2011-03-08
---
"My 7 year old liked being able to learn about real people as well – even if it was through Alexander's vivid imagination!"
Arms of a Sister 2011-03-09
---
"A wonderful story of a young boy with a fascinating imagination…highly recommend[ed."
Fun Saving Money 2011-03-09
---
"The possibilities for learning and imagination are endless."
Retail Therapy Lounge 2011-03-10
---
"This book introduces great historical characters to young boys and inspires them to greatness.. it teaches little boys to be the best little person they can be."
The Buzz 4 Moms 2011-03-10
---
"It's a great book; fun illustrations, exciting language, great message. I liked that it introduced interesting historical figures in a completely fun and exciting way."
Progressive Pioneer 2011-03-10
---
"Just as in My Name Is Not Isabella, My Name Is Not Alexander sends a message that our parents are heroes, life-changing figures in our own personal history. It's an enthusiastic thumbs up from us!"
My Four Monkeys 2011-03-11
---
"My Name is Not Alexander is a great book for jump-starting the imaginations of young children trying to decide what they want to be when they grow up."
Picture Book Depot 2011-03-13
---
"Jennifer Fosberry has furthered her "dare to dream" theme [and the] notion that 'everybody is best at something.'"
Deseret News 2011-03-12
---
"This book is a wonderful springboard for further discovery and learning, and the fantastic illustrations are fun and lively. "
5 Minutes for Books 2011-03-14
---
"The combination of excellent writing from Jennifer Fosberry and superior artistry from Mike Litwin will automatically draw readers into the book. I feel My Name is NOT Alexander embodies the creativity and fickle-minded characteristic of children."
Mom Start 2011-03-15
---
"The perfect combination of fun and educational…a great way to introduce the kids to history."
Simply Being Mommy 2011-03-16
---
"Will leave a lasting impression and will inspire conversation, encourage big dreams, and help start the seed of self-acceptance at an early age."
2 Wired 2 Tired 2011-03-17
---
"Jennifer has come up with a fun way of educating the reader as you go along, chapter by chapter. It's certainly great for child and parental bonding while at the same time, help cultivate a child's learning ability."
Momsie Tales 2011-03-17
---
"A GREAT addition to your library. I highly recommend this sensational, wonderful book, with great, nurturing lessons throughout."
Lady D Books 2011-03-17