MY NAME IS NOT ISABELLA: JUST HOW BIG CAN A LITTLE GIRL DREAM?
Children's Books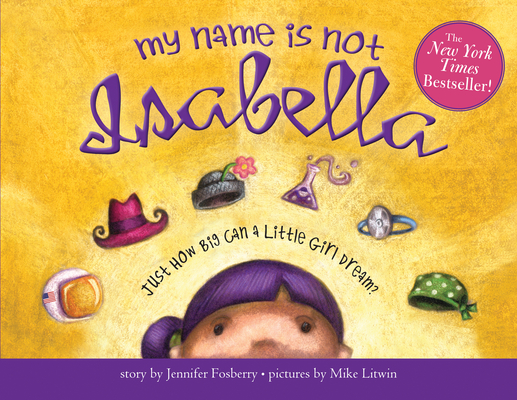 Author:
---
ISBN: 978-1402243950
Publisher: Sourcebooks Jabberwocky
Copyright Date: 2010
Audience: 4 - 8 years / Preschool - 3
Price: $16.99
Pages: 32
Description
Ask Isabella...
She takes a wild ride-and discovers the sky's the limit!
Isabella's heroes include U.S. Astronaut Sally Ride, activist Rosa Parks, and sharpshooter Annie Oakley-but there's no bigger hero than Isabella's own mommy!
Join Isabella on an adventure of discovery-and find out how imagining to be these extraordinary women teaches her the importance of being her extraordinary self.
A rollicking read-aloud and terrific "read-to-myself" story, My Name Is Not Isabella is capturing hearts and awards, including:
Silver ForeWord Book of the Year Award for Picture Books
Gold Moonbeam Children's Book Award
Gold Independent Publisher Book Award
Amelia Bloomer List
Notes
A Mighty Girl Top 100 Pick:
http://www.amightygirl.com/mighty-girl-picks/top-picture-books?utm_source=newsletter&utm_medium=email&utm_campaign=20170414&ts=20170414
Reviews
"The exuberance of the text and typography, coupled with Isabella's force of personality, ensures that the pages fly along, largely and blessedly free of the earnestness that plagues so many "girls can do anything" books."
Publishers Weekly
"A tremendous book."
Mommy's Memorandum
"A great story for little girls!"
Amanda's Favs
"The perfect book to teach young girls about the inner strength of their gender. "
New Age Mama
"It's the kind of book that can open a little girl's mind up to a world of new stories simply by letting her explore all the possibilities."
BabyCenter
"Fun inspiration…sure to be enjoyed."
Chronicles of an Infant Bibliophile
"A delightful tale of young Isabella trying on the personality of daring women who left an indelible mark on history."
Modern Home Modern Baby
"Empowering to young girls and very positive."
Eco Child's Play
"Isabella puts an imaginative spin on her day-to-day activities that reminds us all that we can do anything and be anyone we choose."
Parenting Pink
"This book does a superb job at introducing the reader to real life women who were and are strong role models for young women."
Dad of Divas
"Perfect for any kid who is constantly imagining what they want to be when they grow up."
Momtrends
"Not only is this a great story to help inspire little girls, it's a great book to help teach any child about women's history."
Katie Talks About
"Would willing share this book with friends and family."
My 5 Monkeys
"This book will inspire and empower young girls to make a difference in whatever they choose to do, and show them they don't have to pretend only to be mermaids, princesses, and fairies."
Non-Toxic Kids
"Isabella also teaches adults, who may feel like it's too late to make a change, that's there's always time to follow your dream."
Arms of a Sister
"This is a wonderful book to introduce girls to some amazing role models and empower them with the knowledge that they can be anything they want to be."
Examiner
"If you have a daughter, niece, granddaughter or a special little girl in your life "My Name is Not Isabella" is the perfect gift."
My Own Backyard
"The book moved me in a way that very few children's books have been able to do."
Raising Them Green
"A great fun book about imagination that is inspirational."
Creative Madness Mama
"A wonderful story."
Here and There
"I like what this book teaches, that little girls can be what they want no matter how big!"
Shop with Me Mama
"Empower the little girls in your life by reading this wonderful, engaging story about Isabella and all of the women she admires and aspires to be like in her life."
Tiny Green Mom
"My Name is Not Isabella is a wonderful new picture book that inspires creativity within young girls, as well as encourages the power within all of us."
A Mother World
"The subject matter inspires discussion about women's history as well as encourages self-confidence and pride."
2 Wired 2 Tired
"This is a strong girl-read that will challenge our little ones to "think big"."
In the Pages
"This is a strong girl-read that will challenge our little ones to "think big"."
In the Pages
"Will inspire other little girls to go for their dreams, no matter how big or hard the road may be to get there."
New York Journal of Books
"Isabella's adventurous spirit and role-play reminds girls they can be scientists, doctors, and even astronauts – that they can dream big dreams and make their own mark in history."
The Pioneer Woman
"The teachable quality of this heartwarming tale empowers young girls with the knowledge that they can do anything they want while inspiring them to let their own personalities shine."
Mommies with Cents
"Young readers will love [Isabella's] spirit as well as her smarts."
Everead
"It will inspire young kids to dream big."
Mogul Baby
"This book will help your child realize that there is no dream too big."
My Springfield Mommy
"My Name is Not Isabella should be able to spark discussions about the real people behind the names that Isabella decides to take on for a while."
Mother Daughter Book Club
"That timeless message of encouragement to achieve is the theme of the new children's book by Jennifer Fosberry, My Name Is Not Isabella…I can see how this could capture the imaginations of third-graders, fifth-graders, even 39-year-olds like myself."
Omamas
"It sparked educating conversations about these great women, and allowed my girls the opportunity to feel empowered, the opportunity to dream."
My Four Monkeys
"It inspires [conversations] about female history."
My Sentiment Exact Lee
"Terrific "read-to-myself" story."
Mom Knows It All
"A captivating book for even very young girls–and a terrific resource for older girls to start collecting information on their personal heroes."
Lit for Kids
"I love how it allows little girls to dream to be whomever they want to be."
Mommy PR
<P>"What a wonderful book to showcase some important ladies of history."</p>
Firr Kids
"The book introduces some great historical females to young girls and inspires them to be great! It also teaches them that whoever they are, the best heroine of all is themselves."
The Buzz 4 Moms
"This book was so much fun to read!"
Candid Clever and Cost Effective
"Jennifer Fosberry's lesson in women's history goes down easily, abetted by an appendix with information on Isabella's alternate identities and web sites for further investigation."
Books for Kids
"This book would be a great addition to teaching kids about careers and the importance of being yourself and "reaching for the stars"."
Sprittibee
"A great way to teach young girls about famous women from many walks of life!"
Simply Stacie
"Teaches children that there are no limits to what you can become in life."
Fun Saving Money
"[Isabella] teaches kids how to use their imaginations."
Mommy Blessings in Small Bundles
"We're definitely avid readers of My Name Is Not Isabella and avid fans of the little girl whose name graces the cover."
Boutique Cafe
"Reading this to your children gives them that extra hope and wonder of reaching beyond the stars and knowing they have no limitations on what they can become."
Indiependent Books
"A wonderful story of how a child's imagination can help them become anything they want to be!"
I'm Not Your Everyday Average Mom
"Encourages little girls to dream big — and to follow in the footsteps of the great women before them."
Grandma's Briefs
"A book that every little girl needs to own."
Familylicious
"Isabella uses her imagination to turn her world into an adventure…this shows how we can use our imagination to travel into new worlds and explore other lives."
Crazed Mind
"For every little girl who ever dreamed of being something great – like a doctor or sharp-shooter or astronaut, My Name is Not Isabella, is the perfect reading material!"
Young Adult Book Central
"We. Love. It."
Burgh Baby
"My Name Is Not Isabella is capturing hearts."
Family Corner
"My Name is Not Isabella has become the favorite bedtime book in our home."
Pajama Mommy Community
"Whether you eat breakfast with your child tomorrow morning, or a facsimile with a different name, that child will love this book. Pick up a copy of "My Name is Not Isabella" for your little Great Pretender."
Cape Cod Times
"My Name Is Not Isabella is a charming story that encourages little girls to dream big! It will spark their imagination and jumpstart discussions about heroes, careers, history, and more."
Susan Heim on Parenting
"It is not only was cute, but that it actually taught the children about 6 different women who made an impact on the history of the USA."
The Fashionable Bambino
"This book definitely sends the message to even the youngest of girls that they have the power to become whoever they want to be, whether it be with the use of their imagination or even later on in life."
Multi-Testing Mommy
"My Name is Not Isabella is quite a find…A sense of history, originality and fun run through the whole book making it a real enjoyable read."
Mummy's Product Reviews
"A heartwarming story that empowers young girls to realize their true capabilities while it also inspires them to let their own personalities shine."
Peekabookpicks
"Its positive message teaches them that anyone, girls or boys, can do what they dream of doing, if they work hard, never give up and allow themselves to dream BIG."
Amazing Kids Magazine
"We've already read the book several times and they still can't enough so we'd definitely recommend checking it out."
Black and Married with Kids
"An amazing storybook that encapsulates the wonderment of childhood and endless imagination."
Cafe of Dreams
"This book empowers children to realize their true capabilities, while still letting their own personality radiate."
One Momma Saving Money
"My Name is Not Isabella is a book that can teach little girls of all ages that they truly can be what ever they want to be from Astronaut, to Doctor, to Scientist, and even a loving Mommy."
Jessica Loves to Save Money
"A great read for kids…it's educational but fun!"
Sparkling Reviews
"Jennifer Fosberry creates a tolerant mother and ambitious daughter who keeps changing her name in My Name Is Not Isabella."
San Francisco Chronicle
"A little girl decides to be many amazing women in history – all in one day. She tells her mom she's not Isabella, but instead she's Sally, a great astronaut; Annie a fast sharp-shooter; Marie, a smart scientist; and other fabulous women. Information about the women Isabella admires are presented in more detail at the back of the book and this title is sure to spark discussions of important women in history and the importance of being yourself."
National Parenting Publications Awards (NAPPA)
"I adore how Fosberry deftly weaves the personas of Sally Ride, Annie Oakley, Rosa Parks, Marie Curie, and Elizabeth Blackwell into Isabella's imaginative day."
Lieberry List
"Fosberry provides readers with the utmost basic of information – a first name and one simple word that gives a very broad overview of the role these different women played in history – basic enough that it will allow children to use their "thinking caps" to make inferences (guesses) about what the role they believe these women might have played."
Katie's Literature Lounge
"My kids and I love this book."
A Little of This and A Little of That
"This book is perfect for girls in the 4 to 8 year old range, although I do have to say that I enjoy this book just as much as my 2 year old baby girl does!"
Musing Maine-iac
"A little girl decides to be many amazing women in history-all in one day."
LA Parent
"As a little girl, I dreamed of being all kinds of things, and little Isabella does too in this inspiring book."
Atlanta Parent
"As Isabella reinvents herself in the image of Sally Ride, Rosa Parks, and other heroic women, her mother encourages her dreams while keeping her daily routine on track."
Scholastic Parent and Child
"This would be a great holiday gift for any little girl! I would recommend My Name Is Not Isabella by: Jennifer Fosberry to any parent with little girls."
Bzzing Mom
"Fosberry's light, deft take makes each scene a romp rather than a lesson, and she includes biographies at the back for the kids (and parents) who get hooked and want to know more."
Squidalicious
"This book is a gem of a children's book and is a fun read-aloud story."
San Francisco Book Review
"A charming book about a little girl on an imaginary trip through history, pretending to be some of the greatest women who ever lived, encouraged by her ever-present mom."
Charlotte Parent