2 NELLY GNU AND DADDY TOO
Children's Books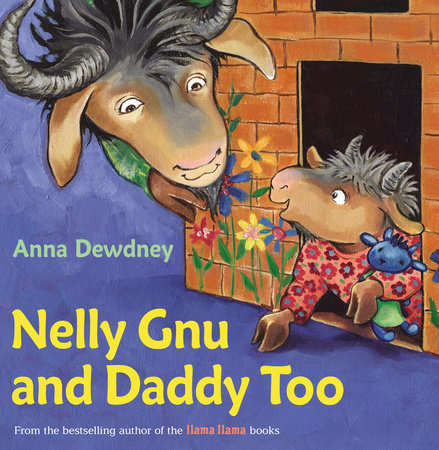 Author:
Anna E. Dewdney Literary Trust
---
ISBN: 978-0670012275
Publisher: PENGUIN/VIKING
Copyright Date: 2014
Price: $17.99
Description
Drawing. Reading. Building. Painting.
These are things Nelly loves to do…but they're always better with Daddy Gnu!
With fun-to-read rhyme, a little silliness, and a lot of warmth, Anna Dewdney—the creator of the beloved llama llama books—tells the story of a daughter and her daddy and their wonderful day together.
Notes
#1 NYT Bestselling Author/Illustrator
Anna Dewdney
http://www.llamallamabook.com/tour.php
Amazon Best Book for May
Reviews
"[A] Father's Day-ready vehicle to showcase an involved and attentive parent."
Publishers Weekly
---
"…an engaging story illustrated with a rainbow of vibrant hurs that preschoolers will love."
Kirkus
---
"Fans of the Llama Llama series can rejoice—best-selling author Dewdney is back with another one, this time featuring Nelly Gnu and her ever helpful daddy … Dewdney clearly knows her audience and delivers an engaging story illustrated with a rainbow of vibrant hues that preschoolers will love. Here's hoping there will be more adventures with Nelly and her family."
Kirkus