NIGHT ANIMALS
Children's Books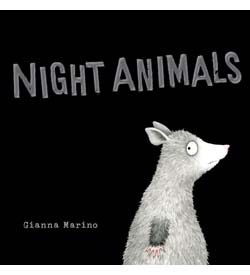 Author:
---
Illustrator:
ISBN: 978-0451469540
Publisher: Viking Books for Young Readers/Penguin Random House
Price: $16.99
Pages: 40
Description
Something's out there in the dark!
First Possum hears it. Then Skunk. Then Wolf comes running.
"What could it possibly be?" asks Bat.
"Night Animals!" the animals declare.
"But you are night animals," Bat informs this not-so-smart crew.
Children will love the oh-so-funny animals in this twist on a cozy bedtime book.
Notes
Gianna Marino
Author/Illustrator of three (additional) picture books; six in total, launched by
NIGHT ANIMALS
Licenses: Scholastic Book Clubs; BL Shuppan (Japanese); Editions Casterman (French excluding Canada); Ravensburger (German); Scholastic Canada (French Canadian)
http://www.kidlitfrenzy.com/kid-lit-frenzy/2015/7/22/book-review-night-animals-by-giannamarino
An adorably silly bedtime book by the creator of Too Tall Houses and Meet Me at the Moon!
And the lights keep shining:
Night Animals is a Top 5 Picture Books in Shelfies (including BEEKLE and THE DAY THE CRAYONS QUIT)
Night Animals gets a FIVE STAR review (again) on Alison Beecher's Kid Lit Frenzy.:
My thoughts on the book: Over the course of a year, I read a lot of picture books. Some are sad. Some are funny. Some are silly. Some make you cry. And some really stand out from all of the rest. Six months ago I read the folded & gathered (F&G) of Night Animals. On GoodReads, I rated it 5-stars. Recently, I read Night Animals again, and I would still give it 5-stars. It really is that good.
Night Animals was also mentioned in PW's recent "What's Selling Between the Covers": "A trend we're seeing is picture books with a dark color palette, and we're doing very well with them…"
Where did the inspiration for the story of Night Animals come from?
I originally wrote Night Animals as a send-off story for Yuyi Morales, who, 16 years after joining my writer's group, was heading back to Mexico. I assigned each member of our group (known as The Revisionaries) an animal and wrote a story about one night in the woods where we kept each other safe from the scary things we could not see.
But after the first draft, I thought of all the nights I spent camping in the woods and backpacking in the wilderness. The one thing that stuck in my mind, and the one sentence EVERYONE who has ever been camping has said or heard, was, "Did you hear something?" I had to write about this!
Camping during the day is magical, but then, as the sun goes down, do you know that little scared feeling you get? Knowing darkness is coming? And there is just a thin bit of nylon between you and all of those night noises? And you KNOW those noises have really big teeth and long sharp claws!
Who has NOT experienced the fear of what lurks in the night?! I wanted to use animals that had their own powerful defenses, but were still completely scared to be in their natural environment. And, being scared of Night Animals, they were oblivious to the fact that they WERE Night Animals!
What is your artistic process for taking your characters out of your imagination and bringing them to the page?
I spent a lot of time thinking about the characters in my head before putting them to paper. I did a lot of rough sketches and experimented using different animals. I originally had a moose, an armadillo and a deer. But I really wanted animals who could be quite scary and could certainly take care of themselves. I think a grizzly bear is the last animal I would want to run into. So I had to make him this giant creature who was really just as scared as the little bat. And the wolf, who looks so fierce, is as terrified as well. The skunk is oblivious of the power of his "perfume" and possum…. playing dead is like the kid who closes their eyes to make things disappear.
What was your favorite part of working on this book?
Since there are so few words, I had to make sure each word brought the story along while, at the same time, let the animals have a voice. I tape the pages in sequence on my wall as I work and part of the fun is having friends come over to visit and watch them figure the story out. I loved sketching the animals' movement across the pages and playing with different poses and emotions. It was a great book to see evolve from rough 4″ sketches, to tight drawings, to the animals in color and finally, the black ink of night to really make the illustration come together.
What media and materials did you use?
I sketch with very soft pencils on soft tracing paper. The paper is light and easy to make changes. If I work on hard paper, the line gets "stuck" on the paper and I can't rework. I then transfer the tight drawings onto Fabriano Cold Press Watercolor paper. For these creatures, I painted the animals with gouache, layer by layer, hair by hair. I use gum arabic in areas to pop color. When all of them were finished, I laid in the black India Ink at the very end. It was nerve-wracking applying the ink. One wrong move and I would have to redo the entire illustration. I taped the bottle to my desk so I could not bump it, and I prayed an earthquake wouldn't hit!
Reviews
"Truly remarkable illustrations clearly convey the book's raucous activity … this eyecatching, slapstick foray into the worrisome night will light up the room with smiles."
Starred Booklist
---
"Every page is visually funny, with hilarious close-ups and slapstick animal postures … a giggle-inducing new gem."
Starred Kirkus
---
"Sweet-tempered nocturnal comedy … the spreads are polished, the story moves fast, and the laughs keep coming."
PUBLISHERS WEEKLY
---
"A good title to share with children who may be afraid of the dark to help them see the lighter side of fear."
School Library Journal
---
http://www.bookweb.org/news/summer-2015-kids%E2%80%99-indie-next-listpreview
---
" … beautifully illustrated … a giggle-worthy story."
Amanda Snow
Hooray for Books!, Alexandria, VA
---
"Great comic effect" … [NIGHT ANIMALS] will be a "repeat request."
Jennifer M. Brown
children's editor, Shelf Awareness