OH NO, LITTLE DRAGON!
Children's Books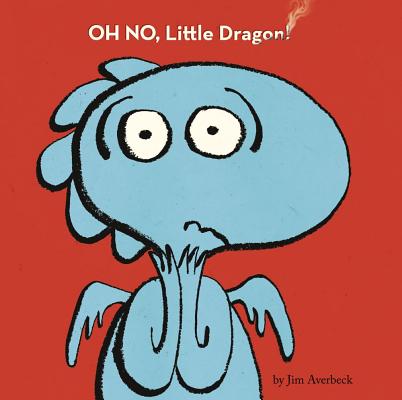 Author:
---
ISBN: 978-1-4169-9545-6
Publisher: Atheneum/Simon and Schuster
Copyright Date: 2012
Rights Retained: Merchandising/Commercial; Dramatic Motion Picture, Television/Radio
Format: Picture Book
Price: $14.99
Pages: 40
Description
With a PHOOSH and a Grrrrrr and a CANNONBAAAALLLLLL! Little Dragon tears through his day (and the house). But even when he gets a little too rambunctious, there's no OH NO! that Mama's kiss can't fix.
Jim Averbeck celebrates both the tremendous energy of a little boy and the tenderness shared between mother and child in this vibrant picture book that begs to be read aloud.
Oh no and uh oh! Little dragon has accidentally lost his spark. One moment, he was huffing and puffing streaks of fire here and there and the next, he swallows a little too much water in the bathtub…just enough to douse his flame. He tries valiantly to rekindle the flame, using tactics like eating hot chili peppers and dressing in his warmest clothing. Just when he thinks that nothing can put a spark back in his heart, he receives a gentle kiss on the snout from his mother, which does the trick! Don't be afraid to pick up this book and get your hands sooty – meeting little dragon is well worth it!
Notes
Hardcover: 978-1-4169-9545-6, $14.99;
eBook 978-1-4424-4270-2; $12.99
Scholastic school bookclub/fair and audio license
2013 Baker's Dozen (PA Center for the Book) Best Children's Book for Family Literacy
http://pabook.libraries.psu.edu/familylit/bakersdozen/2013/index2.html
One of the "very best picture books published in 2012"
Reviews
Bright blue Little Dragon accidentally squelches his fire in the bathtub. He vainly attempts to rekindle it with a belly rub, layering on winter clothes, and then by consuming chili peppers. Mama's reassurance that no matter what, he is the spark in her heart, causes his insides to warm into a "phoosh" of artistic flames that cover him in soot, requiring a more cautious bath. Backgrounds of outlined stone walls and curved windows serve well to feature the feisty hero and his flames, done in oil pastels on textured paper, and digitally assembled. Details like a tiny skull stool and a Viking helmet faucet add to the viewing pleasure. Although the theme of unconditional motherly love is not new, the antics along the way provide amusement.
Gay Lynn Van Vleck for SCHOOL LIBRARY JOURNAL
Henrico County Library, Glen Allen, VA
---
"Averbeck's artwork is…successful, especially when portraying Little Dragon's authentically toddlerlike acts of mischief and his fire-breathing talents (he's way beyond smoke rings–he can make hearts and pyramids, too)…this endearingly impish hero should find fans."
Publishers Weekly
---
"…Averbeck brings this familiar theme of an enduring mother's love to a new level … the full-circle narrative, with an illustration as the last word, cleverly turns a tried-and-true message on its ear.  The illustrations of this endearing, whimsical blue dragon have a childlike simplicity; the flames, which look like photographed fire, lend a special effect that will ignite young listeners."
Booklist
---
Little dragon is lucky because he has a "spark in his heart" that allows him to make fire. He loves being able to send fire swooshing out of his mouth into the air, and his mother happily tells her little son that she loves his flame.
Of course, if you go around making fire, you have a tendency to become sooty. Little Dragon's mother tells him to have a bath, and when he says that he hates baths, she tells him that he can play with his wooden boat in the tub.
In the tub Little Dragon sends a fantastic flame across the water and sets the boat on fire. Then, he decides to be "Little Dragon Fire Department" and he does a cannonball to put out the fire he made. He laughs with delight and, not surprisingly, swallows some water, which puts out Little Dragon's spark. He is sparkless and therefore flameless. Somehow he has to get his spark back!
This delightful picture book will make children laugh out loud. Who can resist a little dragon who likes to set fire to things. Children will be especially amused when they see what the little dragon does to try to get his spark back.
With wonderfully minimal but expressive illustrations and a funny story, Jim Averbeck gives readers a picture book that they will enjoy reading and looking at again and again.
Marya Jansen-Gruber
http://lookingglassreview.com/books/oh-no-little-dragon
---
"… this endearingly impish hero should find fans."
---
"Averbeck brings this familiar theme of an enduring mother's love to a new level … will ignite young listeners."
Booklist