ONE OF A KIND
Children's Books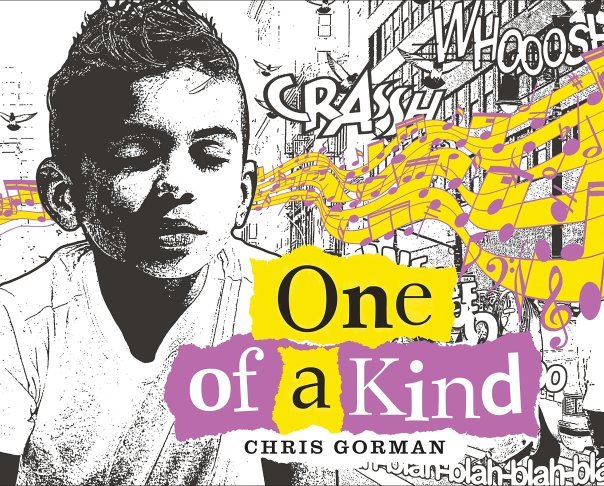 Author:
---
Illustrator:
ISBN: 978-1-5247-4062-7
Publisher: Nancy Paulsen Books
Copyright Date: May 8, 2018
Price: $17.99
Description
Bold, graphic art by indie rocker Chris Gorman of Belly captures the thrill and challenges of marching to your own beat.
Meet a pogo-dancing, punk-rock-loving kid who loves to express himself in his own unique way. His clothes, hairstyle, music, and just the way he hears the world, all set him apart. Not everyone understands him, but he likes being one of a kind--even though it's lonely sometimes. Fortunately, it's a wide world out there, and if he looks around a kid is sure to find other one-of-a-kinds with common interest.
http://www.shelf-awareness.com/issue.html?issue=3246#m40360

… as readers will cheer when "the kid" finds his very own voice and discovers that he isn't so different after all.
Notes
http://www.teenlibrariantoolbox.com/2018/04/new-and-forthcoming-ya-and-mg-to-know-about-4/
Reviews
"A picture-book celebration of individuality and community…affirming…Rock on, Kids!"
–Kirkus
---
"Joyous … Bold, vibrant design showcases the child's emotions in this picture book with a perennial message of self-acceptance."
–Booklist
---
"Exceedingly relatable … A must-have wherever music, especially punk rock, is popular."
–School Library Journal
---
"Readers whose unconventional tastes are at odds with the authorities will enjoy his energy and self-assurance."
–Publishers Weekly
---
One of a Kind by Chris Gorman is about being different and standing different from the crowd. The little boy in the story enjoys rock music, puts his hair in a mohawk, and dresses in a grunge style making him very different from the world around him. The story shows the fun side and the lonely side of the boy's uniqueness but ends happily with him finding friends just like him and realizing they can all be different, together.
https://geekmom.com/2018/04/five-inspiring-upcoming-books-for-kids/
---
This is a story about a young boy who marches to the beat of his own drum, though he occasionally does feel lonely. Set in the city, the boy dresses in jeans, T-shirts, and a leather jacket and boots, with hair cut in a mohawk. He loves to play the drums and listen to punk music. He hears the sounds of the city and feels the energy of its pulse. This is displayed through the use of bold black text on a bright, ripped-paper banner over digitally modified black-and-white photographs. The stark contrast in colors on each page could represent the intense feelings of the protagonist enjoying his independence and interests while still feeling isolated. Gorman has penned an exceedingly relatable book and most readers will connect with the protagonist's dilemma, regardless of their music tastes. There is a happy ending when the child finds other kids to form a band with. VERDICT A must-have wherever music, especially punk rock, is -popular.–Amy Shepherd, St. Anne's Episcopal School, Middleton, DE — SLJ
---
"Addressing the reader directly, an upper-elementary-aged child with soulful dark eyes and spiked hair declares "I'm a kid who's always been a little different." The child discusses the clothes he wears, the music he likes, and the way he dances and styles his hair. Black-and-white visuals "created with cameras and computers" contrast with white text on a pink background or black text on yellow. The words have the appearance of torn strips of paper superimposed on the images and backgrounds. A dramatic two-page spread with the child in the middle, eyes closed and holding drumsticks, asks, "Could it be the way I hear the world?" Sounds of the city, emphasized by pink and yellow accents, surround him. The child is comfortable with himself, but also appreciates finding three more children who are a little different, too. Keeping with the musical theme, the kids form a band, and the image of their group performance is joyous. Bold, vibrant design showcases the child's emotions in this picture book with a perennial message of self-acceptance." – Booklist
---
"A picture-book celebration of individuality and community. An affirming, first-person text is paired with digitally manipulated photo art to follow the narrator through contemplations about what it means to be 'a little different.' . . Throughout, the child listens to music, dances, and drums, developing the character as a pint-sized punk rocker. . . It isn't always easy. 'I like being one of a kind' reads one spread with the child exultant at a drum set, but a page turn shifts the tone and leads up to the line 'It can be lonely and frustrating!' with the child now sitting dejectedly on a front stoop. . . Race is never named, and illustrations can be read as presenting the narrator and one other child as kids of color, though skin color isn't apparent, with just the white of the page and some shading. Rock on, kids!"—Kirkus Reviews
---
"As in his picture book Indi Surfs, Gorman alters black-and-white photographic images to make striking halftones with rich black shadows. The text is laid out on torn paper scraps of pink and yellow, in the style of Sex Pistols album art. . . Readers whose unconventional tastes are at odds with the authorities will enjoy his energy and self-assurance."—PW