OPERATION FROG EFFECT
Children's Books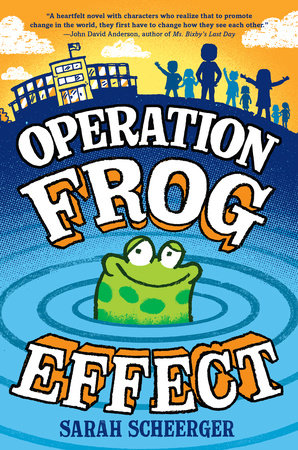 Author:
---
ISBN: 978-0-525-64412-5
Publisher: Random House
Copyright Date: 2019
Price: $19.99
Description
Diary of a Wimpy Kid meets Because of Mr. Terupt with a splash of Dear Mr. Henshaw …
Told in eight perspectives--including one in graphic novel form--Operation Frog Effect is perfect for fans of Andrew Clements, Rob Buyea, and Sarah Weeks, and for anyone who wants to make a difference.
 Hi—
It's us, Ms. Graham's class. We didn't mean to mess things up. But we did. We took things too far, and now Ms. Graham is in trouble--for something we did. We made a mistake. The question is, can we fix it? Ms. Graham taught us that we get to choose the kind of people we want to be and that a single act can create ripples. So get ready, world--we're about to make some ripples.
Sincerely,
Kayley, Kai, Henry, Aviva, Cecilia, Blake, Sharon, Emily (and Kermit, class frog)
Everyone makes mistakes. But what happens when your mistake hurts someone else? Told in eight perspectives--including one in graphic novel form, Operation Frog Effect celebrates standing up and standing together, and tells the unforgettable story of how eight very different kids take responsibility for their actions and unite for a cause they all believe in.
If one small act can create a ripple across the universe . . . what happens when a whole group of kids join together and act?
Notes
Author commentary:
https://www.penguinrandomhouseaudio.com/embed/custom/22885?ref=https://www.penguinrandomhouseaudio.com/book/575577/operation-frog-effect/?ref=PRH65DEB6D606
---
http://librarianleaps.blogspot.com/search/label/Sarah%20Scheerger
---
https://images.randomhouse.com/promo_image/9780525644125_5528.pdf
---
Eight-Layered Bean Dip: Writing in Multiple POVs
My characters arrive on my literary stage with their own unique personalities and diverse cultural/religious backgrounds, as well as learning styles. It was important to me to create diverse characters who both represented a typical Californian classroom and who were their own individuals with strengths and weaknesses.
https://mgbookvillage.org/2019/02/06/eight-layered-bean-dip-writing-in-multiple-povs/
From Sarah: 
"While the initial drafts of a writing project are often solitary, I love the collaboration that occurs when an editor jumps on board. With Operation Frog Effect, I also loved working with my fabulous illustrator Gina Marie Perry.
Isn't she amazing?"
---
Interview with Sarah Scheerger
The Origins of OPERATION FROG EFFECT
MUF: What inspired you to write this book?
My fourth-grade teacher, Mr. Nubling, was innovative. He took risks, he made us think, and he understood when we made mistakes. He had a "growth mindset" before that was such a popular concept. He actually had us build our own model rockets in class and shoot them off on the school fields. (This probably wouldn't happen today, but this was the eighties.) Mr. Nubling only had four fingers on one hand. One year (not my year), a student accidentally shot off his rocket while Mr. Nubling was still securing it in place. And despite losing a digit, Mr. Nubling continued to shoot off rockets every year with his fourth graders.
MUF: Why did you decide to use a multi-POV approach?
I love the way multiple points of view provide the opportunity for misunderstandings, for unreliable narrators, and for a quick moving pace. Also, I wanted to create a character who has his own unique learning style. Blake is a student who struggles with writing but loves to draw.
Teaching Tolerance
MUF: I was fascinated by the Whistler/Non-Whistler project. Is that a real teaching model?
My fourth-grade teacher, Mr. Nubling, did this experiment with our class. To be honest, my memory is fuzzy, so I'm not sure whether he did an eye color experiment or based it on gender. I only remember my feelings of injustice! I was confused and upset… and that experiment has stuck with me ever since.
When writing this book, I researched the eye color experiment. It originated with a teacher, Jane Elliot. She talked about it on "Oprah" back in the nineties. Here's a clip. https://www.huffingtonpost.com/2015/01/02/jane-elliott-race-experiment-oprah-show_n_6396980.html
In my first version of Operation Frog Effect, I considered doing the actual "eye color experiment". But after much thought, my editor and I decided the point would be most poignant if I selected something entirely random, like the ability to whistle. (By the way, I cannot whistle myself.)
About that Frog…
MUF: Frogs are an important symbol in many cultures – often indicating a need for transformation or cleansing, for a new perspective on life. I can't help but wonder whether this symbolism tied into your choice of the frog as a class pet? Ms. Graham's class had an incredibly transformative year!
You're totally right. This was a transformative year for Ms. Graham's class.
Sweet Kermit was an addition during my first round of edits. My editor and I were brainstorming titles and ideas for metaphors and themes. We decided that a class pet frog could bring out Blake's nurturing/caring side, had the potential for fun complications (oops—frog on the loose!) as well as created fun cover art. (My heart melts for the frog on the cover of the book.)
The frog symbolism was important too. You're right that frogs are an important symbol for many cultures, and my editor and I also loved the concept of making ripples. Frogs make ripples in the water, and my characters made ripples in the world. (I love the ripples on the cover too!)
Writing the Book
MUF: What is your favorite part?
I love Blake's sections. Gina Perry did a fabulous job. I'm hopeful that his sections will reach kids in a different way than the traditional text. Interestingly, I rewrote all of Blake's sections for the audiobook. It was a group effort—I worked together with the producer to transform the illustrations back into inner dialogue… what Blake would have been thinking as he was sketching. (This was so fun—the producer and I met for coffee and worked together!)
And the counselor in me loves the little tidbits of social-emotional learning that Ms. Graham shares with her class.
MUF: What was the hardest part of the book to write?
Oh, great question! I did find it challenging to keep track of threads and details across characters. I kept lists and charts. I wanted to give each character equal playing time, make sure they each had their own arc, their own strengths, and their own weaknesses. I wanted to be sure the voices were different enough to be distinct. I also took extra care with the representation of my diverse characters. I had seventeen different authenticity readers! Each reader shared different insights, from his/her own perspective. It was really important to both me and my editor that we take extra steps to be sure we represented each character authentically.
(Cool fact: the audiobook is narrated by nine different diverse voices. This was really important to me, and I'm so thrilled with the end result.)
---
Reviews
"… Scheerger does an expert job throughout of keeping multiple subplots untangled and the voices of her narrators distinct (with) … nuances aplenty in the cast and plot for readers to ponder … the author infuses her story in nonpreachy ways with themes of kindness, respect for others, and the importance of acting responsibly, capped by a list of helpful web resources." —BOOKLIST
---
"… In Scheerger's middle-grade debut, she tackles issues of friendship, bullying, immigration, women's rights, access to education, and homelessness/poverty. Speaking in a series of notes, letters, journal entries, and comics, eight diverse voices lead the storytelling as readers follow the fifth-grade year of Ms. Graham's class (and their class frog, Kermit!). Her characters are genuine and complex as they grow and change into radical young adults. A thoughtful exploration of the power of the collective voice—growing up is owning up and speaking up." —KIRKUS
---
Sarah Scheerger has written a timely relatable story told in diary form with eight diverse students writing their experiences as the school year advances. That story begins at White Oak Elementary School. Ms. Graham is a teacher with unconventional teaching methods; one of them involves having a class frog named Kermit. The pacing is the story never strays, and Scheerger addresses situations that middle school kids face every day: family life, friendship drama, and hideous homework. (YUK!) What is impressive is the way each student writes their individual journal entries in diverse compositions. Blake is the artist, so his journaling in graphic novel format. Henry writes in a script dialogue style. These different structures in the story will engage a wide variety of readers.
Topical social issues intertwined into this middle-grade novel, such as immigration and homelessness, keep the story in perspective. Throughout the book, the kids learn how they can make a difference in the world and are not afraid to face life's hurdles. The students make some mistakes in the middle of the story, and one of their blunders has vital repercussions. When the students decide to go on an unapproved trip to a homeless shelter, chaos ensues, Ms. Graham blamed for authorizing without the parents' permission and placed on administrative leave. Students have to live the consequences, and they work together to make things right.
Readers will find OPERATION FROG EFFECT uplifting till the very end. The story was a marvelous read.
http://blogs.slj.com/heavymedal/2019/11/20/7416/
---
"Compelling … teachable moments aplenty in the kids' experiences and growing camaraderie … enticingly readable … offers multiple discussion possibilities for classes seeking to expand from Andrew Clements.  Bulletin
---
Beautiful passage from the book that I wish every child & adult could realize! This struck home for me! Rating of:
Did you love Because of Mr. Terupt?  What about Last Fifth Grade of Emerson Elementary School?   It's almost like Operation Frog Effect completes the trilogy (with Mrs. Bixby's Last Day as an add on). Diverse fifth graders each sharing their own point of view. There's even a poet and screenwriter.  A classroom teacher we love who pushes the envelope. Kids standing up for what they believe in… This book is "frogtastic", "frogerful" and "frog-alicious." 
"Of course I loved finding this [reference to THE CROSSOVER]
in the book!" — Librarian Leaps 
---
"This book is wonderful and important on so many levels! So happy to be a part of this SUPER creative team bringing the words of Sarah Scheerger to life!" Veronica Taylor
— RHAudio#Audiobooks
---
"This book is so amazing! … Ms. Graham is an inspirational teacher and the affect she has on her students makes me want to be a better teacher. Do not miss this story of friendship, coming of age, and how powerful students voices truly can be." 
—Laurie's Library Place 
---
I'm a huge fan of illustrations and their power on the reader. I sit in awe and wonder, because my pencil doesn't do that. I'm indebted to the skill, time and heart that illustrator Gina Perry put into her work for this project.
It's . . . Frog-tastic! And she's pretty Frog-tastic too!
 https://mgbookvillage.org/2019/02/21/weaving-a-graphic-novel-into-a-traditional-text/
---
An authentic, heartfelt novel that bounds from voice to voice and page to page. Scheerger's [middle-grade] debut rewards readers with a rich cast of complex characters who realize that to promote change in the world, they first have to change how they see each other. — John David Anderson, author of Ms. Bixby's Last Day
---
A shy friend, funny friend, bossy friend, artistic friend, imaginary friend, even a froggy friend. All's fair in Operation Frog Effect when a class of fifth-graders come together to stick up for their beliefs and make a difference in the world. -–Sherry Shahan, author of Ice Island (Yearling/Random House)
---
Operation Frog Effect is like The Breakfast Club for middle schoolers. It'll make you laugh, cheer, and strive to be a better person. — Shannon Hitchcock, author of Ruby Lee & Me and One True Way (Scholastic)
---
Eight unforgettable fifth graders, one remarkable young teacher, and a sympathetic frog create a powerful community in this not-to-be missed story. Once in a while you find a book that feels like a gift. Operation Frog Effect is one of those books. — Val Hobbes
---
Sarah Scheerger is the fifth grade whisperer. With her Operation Frog Effect, it feels as if a classroom of children have shared with her their deepest and most secret thoughts. It's truly funny and genuine. Students, parents and teachers will all recognize themselves. Not only is this delightful and poignant middle grade novel filled with authentic voices, it offers the best parts of a graphic novel, some poetry, the very cool science of frogs, and most importantly a whole lot of heart. Kids will be hoppy to have this book!  It's sure to be loved by boys and girls alike.– Hillary Homzie, MG author of Queen of Likes and professor of children's writing and literature, Hollins University
---
Operation Frog Effect will become a beloved read-aloud and treasured book to be read and shared with whispered words: "You'll love this one." It's a perfect middle grade read with engaging characters you will cheer for. I absolutely adored this fun and touching book. – Donna Gephart
---
Sarah Scheerger's Operation Frog Effect is a fun and heart-warming read, brilliantly narrated by eight diverse elementary students you are sure to fall in love with." Ernesto Cisneros, debut MG author of Efren Divided (HC) and Intermediate School Teacher
---