PETE THE CAT AND HIS FOUR GROOVY BUTTONS
Children's Books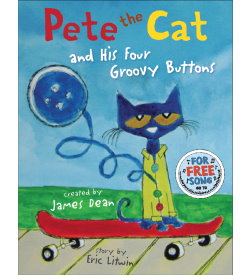 Author:
---
Illustrator:
ISBN: 978-0-06-211058-9
Publisher: HarperCollins
Copyright Date: 2012
Rights Retained: Dramatic adaptation rights: motion picture, television, live-stage, and dramatic audiovisual; multimedia adaptation rights; commercial tie-in and merchandising
Price: $16.99
Description
Pete the Cat is wearing his favorite shirt—the one with the four totally groovy buttons. But when one falls off, does Pete cry? Goodness, no! He just keeps on singing his song—after all, what could be groovier than three groovy buttons? Count down with Pete in this rocking new story from the creators of the bestselling Pete the Cat books.
In his fourth picture book, Pete the Cat loves (and sings about) the buttons on his yellow shirt, but when they pop off one by one, he doesn't freak out: "Did Pete cry? Goodness, no! Buttons come and buttons go." In bold, primary colors, the number of buttons remaining on the shirt appears at left, both as a numeral and written out, and the diminishing buttons are represented in basic equations (3-1=2). Even after all his buttons are gone, Pete takes it as a cue to go surfing. Readers who need a reminder not to sweat the small stuff will find a model of unflappability in Pete. Ages 3–7. (Publishers Weekly)
Notes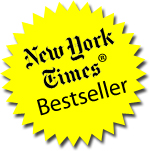 Created and Illustrated by New York Times Bestselling James Dean
www.petethecat.com/
http://www.youtube.com/watch?v=M2YwCgtvnNg
A companion volume to the award-winning, bestselling books written by Eric Litwin:
PETE THE CAT: I LOVE MY WHITE SHOES
PETE THE CAT: I LOVE MY SCHOOL SHOES
PETE THE CAT SAVES CHRISTMAS
Co-Published in the UK (HCUK) Licensed in Chinese (Dook), French (Scholastic Canada), Hebrew (Kinneret-Zmora-Dvir Publishing House Ltd), Hungarian (Maxim Konyvkiado), Italian (Editrice Il Castoro), Japanese (Child Honsha), Korean (Sang-Sang-Eui-Him), Polish (Media Plus), Romanian (Nemira), Russian (Kariera Press), Spanish (Maeva Edciones), Turkish (Epsilon Yayincilik)
2012 Geisel Honor
A #1 New York Times Bestseller
CBOMC
Scholastic Book Club and Book Fair paperback
2012 ABC Best Book for Children
B & N Best Book of 2012
Amazon Best of the Year Round-up
http://childrensbooksguide.com/best-childrens-books-2012
2012 Geisel Honor
2013 Children's Choice Picture Book of the Year
2013 Children's Choice Illustrator of the Year Nominee
012 ABC Best Book for Children
B & N Best Book of 2012
Amazon Best of the Year Round-up