PETE THE CAT: OLD MACDONALD HAD A FARM
Children's Books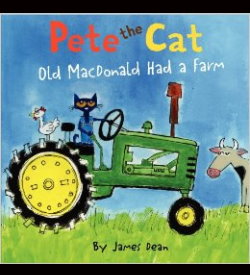 Author:
---
Illustrator:
ISBN: 978-0062198730
Publisher: Harper Collins/Festival
Copyright Date: 2014
Rights Retained: Scholastic Canada French translation
Format: Picture Book
Price: $9.99
Description
Join Pete, from New York Times bestselling author James Dean's Pete the Cat picture-book series, as he visits a farm in this groovy version of the classic children's song "Old MacDonald Had a Farm." Children will love singing along—e-i-e-i-o!—with Pete the Cat.
Notes
March 8, 2016 board book
978-0062381606; $7.99
February 18, 2014
978-0062198730; $9.99
North American French Language license
(Editions Scholastic in Canada)
Over 300K copies sold to date!