PETE THE CATS SING-ALONG STORY COLLECTION 3 Great Books from One Cool Cat!
Children's Books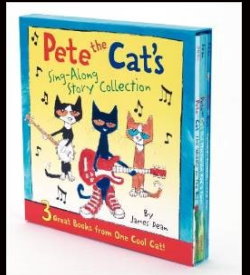 Author:
---
ISBN: 978-0062304209
Publisher: HarperFestival
Copyright Date: 2014
Description
Notes
#1 New York Times bestselling creator
James Dean
www.petethecat.com/
Upcoming News:
Sing along with Pete the Cat in New York Times bestselling artist James Dean's three supercool adaptations of classic favorites. In Pete the Cat's Sing-Along Story Collection, head to school with Pete and his pals in The Wheels on the Bus; hang out on the farm with Pete in Old MacDonald Had a Farm; and join Pete in the perfect bedtime song Twinkle, Twinkle, Little Star.