PRINCESS ZELDA AND THE FROG
Children's Books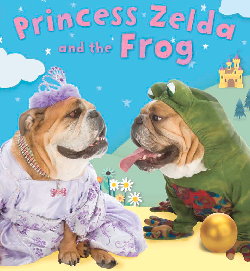 Author:
---
ISBN: 978-0-312-60325-0
Copyright Date: 2011
Audience: Children
Format: Board Book
Price: $17.00
Pages: 40
Description
Once upon a time there was a princess named Zelda. One day, when she is out in her finest satin dress playing with her favorite golden ball, she tosses her ball up in the air, and it lands—SPLAT!—in the mud. Princesses don't go in the mud. How will she ever get back her favorite ball? Along comes an ugly, disgusting frog who will help her, but in return, Zelda must promise to be his best friend forever!
Reviews
"English bulldog Zelda–star of the Zelda Wisdom line of greeting cards, books, and other products–takes center stage in this snazzy reboot of the Princess and the Frog fairy tale. Gardner's energetic, contemporary tone cements this as a playful, modern interpretation … ought to draw a legion of dog lovers and Zelda fans, in addition to kids looking for a silly read." PW