READY FOR SCHOOL, MURPHY?
Children's Books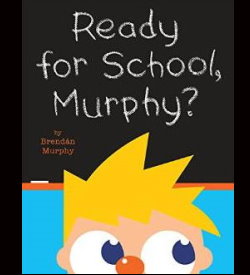 Illustrator: Brendán Murphy
ISBN: 978-1484707401
Publisher: Hyperion/Disney
Copyright Date: 2015
Price: $16.99
Description
Murphy doesn't want to go to school. He has butterflies in his tummy and ants in his pants! But no amount of made-up excuses convince his dad to let him stay home. Just when Murphy has all but given up, his father brings him up-to-date-it's Saturday!
Notes
Brendan Murphy
Author/Illustrator of the picture book about a little boy who feigns illness to get out of school only to discover it's Saturday