RIDING THE UNIVERSE
Children's Books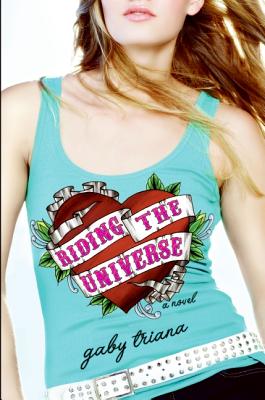 Author:
---
Publisher: Harper Collins/HarperTeen
Copyright Date: 2009
Audience: Teen
Description
Chloé Rodriguez values three things above all else—her family; her best friend, Rock; and Lolita, her Harley-Davidson 1200 Sportster. With a black body, blue airbrushed flames, and perfect sloping ape hangers, Lolita is Chloé's last connection to her beloved uncle, Seth, who left her the bike when he died last summer. So when a failing chemistry grade threatens to separate Chloé from her motorcycle, she vows not to let that happen . . . no matter what.
Enter Gordon. Ridiculously organized, übersmart, and hot in a casual, doesn't-know-it kind of way, Chloé's peer tutor may have a thing or two to teach her besides chemistry. But she has to stop falling for Gordon . . . and get Rock to act mature whenever he's around . . . and pass chemistry so she doesn't lose Lolita forever. Just when Chloé thinks she's got it all figured out, a bump in the road comes out of nowhere and sends her skidding.
Reviews
"Gaby Triana has created a heroine after my own heart. Chloe is smart. Loyal. Fearless. I'd ride with her any day."
Ellen Hopkins
New York Times bestselling author
---
"Stupendicular! Gaby Triana has crafted a beautiful coming-of-age story with deft prose and well-developed characters. I put it down with a sigh."
Alex Flinn
author of Beastly and Breathing Underwater
---
"Chloé's tough exterior, layered over her introspective inner voice…drive this text onto an open road that's filled with enough unexpected speed bumps to engage readers."
Kirkus Reviews
---
"The authentic teen voices and tangible emotions make this book a satisfying read."
School Library Journal
---
"Teens will…enjoy following Chloe as she navigates school and home life, her issues, and her discovery that opening your heart can hurt-but also heal."
Booklist