SEA OTTER HEROES
Children's Books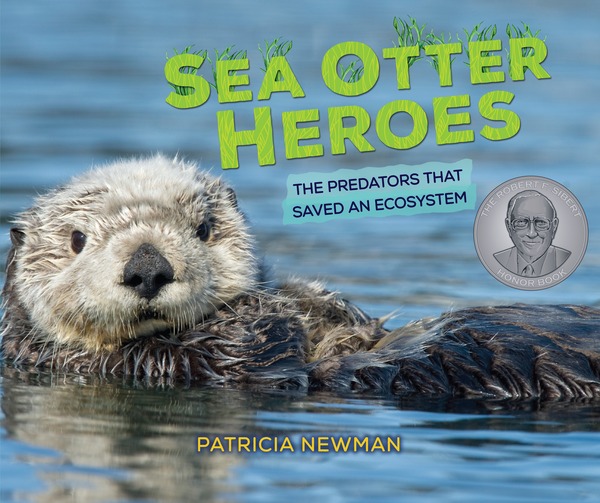 Author:
---
ISBN: 978-1-5124-2631-1
Publisher: Millbrook/Lerner
Format: Nonfiction
Description
Notes
Meet-the-Author of Sea Otter Heroes:
https://www.teachingbooks.net/qljeozr
---
Download a CCSS-aligned teaching guide
---
Sibert Honor Book
---
Junior Library Guild Selection
---
Interview with Dr. Brent Hughes
Dr. Brent Hughes is a marine biologist with the University of California at Santa Cruz-Long Marine Lab. Dr. Hughes discovered a new trophic cascade involving sea otters, an apex predator in Elkhorn Slough, just off Monterey Bay in Northern California. In honor of Sea Otter Awareness Week, he shares science tips for kids and talks about his involvement in the making of Sea Otter Heroes.
Science tips for kids
Patricia Newman: What advice do you have for kids studying science in school? Dr. Hughes: Science can seem like a challenging subject to study, and some think you have to be the smartest kid in school to be a scientist. That's not true. There is room in science for people with all types of skill sets. For example, if you are a visual/artsy type, then science can benefit from you because we are always in need of scientific illustrators, film makers, and artistic interpreters. If you are into history, then science can benefit from you because we need more anthropologists and paleobiologists.
I think what draws most to science is the thrill of discovery. So if you like discovery, then science might be the thing for you. It certainly was the catalyst for my interest in science and still is the force that motivates me to this day.
As an author, I enjoy speaking with the teachers and students who read my books. Middle-school librarian Brenda Kahn and I were lucky enough to meet in person at an ALA conference a few years back.
How Brenda Kahn will use Sea Otter Heroes in the classroom
I am using Sea Otter Heroes as a mentor text with grade 7 this year. We will read the book together, and I will point out how to approach reading a nonfiction text, note taking, exploring the back matter, and checking out the resources. I would like them to brainstorm reactions and questions about what they read. From there, students will need to choose their own "Scientist at Work" book to read from a collection I have in the library.
Discussion questions from Kellee Moye of Unleashing Readers
What is the "critical link between" sea otters and flowering sea grass?
Finding the link was an accident, what was Brent Hughes studying when he found the connection?
What was the proof that the connection existed?
How does the Elkhorn Slough exist?
What are Hughes's 7 steps to think like a scientist?
Observe nature and go through the 7 steps yourself. What part did sea hares play in Brett Hughes's experiment?
What is a trophic cascade?
How are what was discovered about the otters similar to the situations with wolves and sperm whales Newman shared?
---
Tween Titles to Inspire Science-Based Community Projects | Nonfiction Notions
Nonfiction about science isn't often considered as a blueprint for getting kids involved in activism and their community, but the tweens who today want to help animals, improve the environment, invent, and explore are the young adults who might change the scientific world tomorrow! Two recent titles do an excellent job of breaking down the scientific process into manageable projects for kids. For younger tweens, Sea Otter Heroes follows the research of marine biologist Brent Hughes on the Elkhorn Slough in California. A step-by-step breakdown of his process in researching the causes of pollution and ways to remove it, ending with the discovery of how sea otters affected the environment, provides a solid and replicable plan for kids to start their own scientific research project in their community. Author Patricia Newman provides guidance for creating a mesocosm and offers thought-provoking questions to get readers thinking about their own relationship with local wildlife. With an adult to provide assistance, this book could easily be used as part of a larger effort to reclaim a creek area, create an urban garden, or otherwise improve the local community with a science-based project.
http://www.slj.com/2017/08/books-media/234408/
---
Reviews
STARRED KIRKUS
"… intriguing … a model of the scientific method. A map, ample photographs, and an attractive design add appeal, and there are sensible suggestions for environmental protection. A thoughtfully organized and attractively presented example of science in the field.  (source notes, glossary, bibliography, suggested resources, index).
"Newman delivers another cogent, superb and influential book … Now, more than ever, we need to nurture young readers' fascination with animals and nature. There is so much at stake."
Marine biologist Brent Hughes uncovered a scientific mystery. The seagrass in an estuary off Monterey Bay in northern California should be nearly dead because of fertilizer runoff from surrounding fields. But it thrived! Why? Find out how Brent solved the seagrass mystery through a surprising connection to sea otters …
---
There are many science concepts presented in the book: food chains and webs, nutrient pollution and water quality, ecosystem services, the nature of science and the scientific method, interpreting data, and human impact on the environment to name a few. What makes [SEA OTTER HEROES] stand out is the way the information is presented.
The story is very captivating and the science is seamlessly integrated into the mystery plot.
http://www.nsta.org/recommends/ViewProduct.aspx?ProductID=23310
---
http://proseandkahn.blogspot.com/2017/01/happy-book-birthday-non-fiction-monday.html
---
An Authors for Earth Day ECO-BOOK OF THE MONTH (February)
"Highly recommended."
–Jennifer Wharton, Librarian at Jean Little Library and SLJ Nonfiction Notions columnist
---
Teachers' Tools for Navigation:
Patricia Newman's books (Plastic, Ahoy! and Ebola included) are made for classrooms. This text includes not only the cause-effect relationship between otters and sea grass, but also has experiments, information about careers, a glossary, and an afterword about rethinking our relationship with nature giving the reader real ways they can make a difference.
http://www.unleashingreaders.com/?p=12302
---
Science comes to life in this intriguing book … (it) reads like a scientific detective story, and the results are both fascinating and encouraging. In addition to the photos, the book is illustrated with visually inviting charts and graphs. Insets called "Otterisms" provide additional information on sea otters, including their history with people, biological traits, and habits. Plentiful back matter includes directions for a Mesocosm experiment, thought-provoking questions, recommended additional sources, a bibliography and glossary. A terrific book for use in elementary and middle school science classes, this is a book that "otter" be added to collections everywhere.
http://israelbookreview.blogspot.com/2017/04/sea-otter-heroes-predators-that-saved.html?m=1
---
Celebrate Sea Otter Awareness Week with SEA OTTER HEROES Author Patricia Newman!