.SHIPWRECKERS: The Curse of the Cursed Temple of Curses – or – We Nearly Died. A Lot.
Children's Books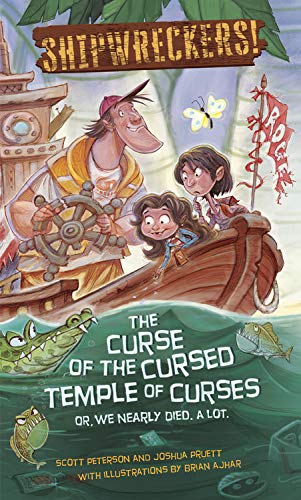 Author:
---
ISBN: 978-1-368-00847-1
Publisher: Disney Hyperion
Copyright Date: 2019
Cover Type: Hard Cover
Price: $16.99
Pages: 336
Description
When Dani and her big brother Mike find themselves aboard the ill-fated river expedition of careless adventurer, Captain Kevin, they must work together to save themselves and the captain from all manner of deadly trials and traps. Complete with treacherous temples, ancient idols, and plenty of explosions, Shipwreckers is a big adventure that brings humor along for a dangerous and thrilling ride up the Amazon. In a place where laughter meets non-stop action, you'll find Shipwreckers and its cast of soon-to-be fan-favorite characters.
An adventure up the Amazon, full of booby-trapped ruins, strange creatures, and ancient evil, piloted by an idiot who won't stop making puns and jokes, as seen through the eyes of his (more than) capable sidekicks.
It's been just over three years since the publication of Peterson and Pruett's first novel, "Jungle Book: The Strength of the Wolf is the Pack," the popular novelization of the live action feature film directed by Jon Favreau. But even then, the writing duo knew they had an original story up their wrinkled sleeves.
"We loved the idea of two kids going on an ill-fated river expedition with an adventuring captain," Peterson said. "But a captain who has no idea what the heck he's doing and who's more likely to get them killed than to save them! Also puns. Lots and lots of puns."
"The kids become the real heroes," Pruett said. "And in the world of kid-centric, family entertainment, teaming up with Disney/Hyperion to bring these characters and the entire Shipwreckers world to print seemed like the perfect fit."
But for these two pun-drunk scribes, this might only be the beginning of the adventure.
Notes
Debut MG novel –
a summer popcorn movie in book form, rollicking action/comedy for kids.
Reviews
"Funny, warm, and weird, Shipwreckers is full of wildly inventive adventure! Peterson and Pruett really deliver the goods. I hate them a little." ―Max Brallier, author of the NYT best-selling series
The Last Kids on Earth
---
"A pulpy, screwball novel…A journey spiked with absurdity…
Fans of swashbuckling adventures will find much to enjoy."― Kirkus
---
"They say 'don't judge a book by its cover,' but in this case, it is appropriate to judge this middle grade adventure by its absurd and diverting title. VERDICT Coauthors Peterson and Pruett deliver an action-packed ride through the Amazon in this series debut; recommended for fiction collections."–SLJ
---
"Readers who like over-the-top adventure tales will enjoy the numerous unbelievable situations the characters find themselves in… The captain's lame jokes and puns will appeal to the tween crowd, as will the Indiana Jones-style adventures."
― School Library Connection
---
"An out-of-control ROLLER COASTER of fun, filled with hilarious characters and real heart. Peterson and Pruett have made magic here." ―Dan Povenmire and Jeff "Swampy" Marsh, co-creators of Disney's Phineas and Ferb
---
---
You guys…this was SUCH A GREAT READ!
Seriously, I felt like I was strapping in for a "three hour tour" only to find out that it was SO MUCH MORE. We're talking Disney's Jungle Cruise elevated exponentially to the next level of adventure! We're speaking of a captain that would even give old Sparrow a run for his money (no really, he'd probably have him running after money because he's tricky like that…whether intentional or not!). We're going on about an ADVENTURE with MR. ADVENTURE(son) himself, bursting at the seems with nautical wit, humorous hijinks, and downright dangerous stunts that while you're kissing the dry land you're walking on, you'll STILL be clutching the book and turning pages because you won't be able to put it down…and no it's not because I've glued your hand to the page, either.
Captain Kevin Adventureson is ridiculously memorable…and definitely not hurting in the ego department! Handsome. Exciting. "Been everywhere, done everything, and looked better than everyone else doing it." Seriously, he's a RIOT whether he's sailing the high seas, scamming tourists out of their vacation funds, or tackling the Amazon's hottest taco. Dani and Mike are beyond resourceful…a good thing too seeing as their captain is a bit non-traditional. *ahem* They have to fend for themselves and do a bit of growing up in order to survive this trip…and just how that all comes to pass is equally exciting! The bad guys are full of surprises, and really, there's one surprise that is TOTALLY SURPRISING…and even some of the good guys are full of them too! We'll just sum it up as being good at keeping you on toes.
In the end, it's not AFTen that I get to be this punny in a review…or at it's close! Take it from me (no, really…take it!), you'll want to catch the WAVE on this massive SHIPWRECK in the making. Between the fab CREW, fantabulous SAILORS TALE, and the unexpected turns to the STARBOARD side, you'll be laughing, hooting, hollering, and generally causing a ruckus this side of the HIGH SEAS while reading an ADVENTURE(son) you won't soon forget! There, how's that for some nautical wit?
http://insatiablereaders.blogspot.com/
---
This book is a hilarious and perilous adventure, filled with action, goofy puns, and a nice helping of heart. When I read the author's bios and saw that they write for kids' TV, it all made so much sense–the book reads like an animated movie. It's full of larger-than-life characters who make you laugh out loud (Captain Kevin Adventureson is incredibly clueless and yet full of himself, but he still manages to be lovable at the same time) and the kind of hold-your-breath swashbuckling adventures that keep you turning the pages. I promise you will never get bored when you read this book. But it doesn't feature all that action at the expense of character development–I especially loved Mike's journey toward understanding that it's okay to take risks sometimes. He's always been cautious and overprotective of his little sister Dani, especially since she got hurt when he was supposed to be watching her (he was only eight at the time). Dani, on the other hand, is a little reckless–she's used to having her big brother around to watch out for her. Both of these kids learn lessons about life and family during their adventure. The emotional story is weaved into the action seamlessly, though, so you're always looking forward to what disaster will befall the group next (there are a lot of them!). If you're a fan of humorous kids' adventure stories, you can't go wrong with this book!
https://feedyourfictionaddiction.com/2019/05/shipwreckers-by-scott-d-peterson-josh-pruett-review-giveaway.html
---
A cursed temple? Treasure? The Amazon River? A very punny Captain and two kids on a boat? What could go wrong? Everything!
Writers Scott Peterson and Joshua Pruett, whose last book was the novelization of Jon Favreau's The Jungle Book, bring us their latest page turner! And given their background as writers for such shows as Phineas and Ferb and the upcoming The Last Kids on Earth, Shipwreckers reads like an animated film!
The action is over-the-top and will keep you turning the pages! But fear not, all of the action does not come at the expense of character development. You will love the arcs of the siblings and learn some valuable lessons of life and family along the way.
By the time you get to the end of the book you will want to know where the television series is! Or at least wonder how much longer you will have to wait for the follow up to this action packed book!
http://www.sasakitime.com/2019/05/book-review-shipwreckers-by-scott.html
---
This book is so much fun! Full of puns, adventure, a book-loving main character and a story that reads like a film. This story will appeal to middle-graders (especially boys) and it shows that boys can be bookworms while little sisters can be action-adventure heroes breaking stereotypes all the way around. There better be a sequel to this one!
https://www.bookhoundsya.net/2019/05/giveaway-review-shipwreckers-by-scott-d-peterson-joshua-pruett-scottdpeterson1-zombietardis-disneybooks-ends-5-26.html
---
https://soundcloud.com/writerexperience/ep49
---
This is an incredibly fun, high powered adventure book from page one. Aimed at upper elementary / middle schoolers, this book reads like a television movie, with non-stop action, an unending supply of puns, fabulous recognizable characters and also in there – a true exploration of family bonds, friendship and how to handle anything life throws at you – even if it's giant man-eating caimans or cursed mummies. The story itself is so easy to read and page turning that it's going to cause many kids to insist on finishing it before bedtime! The illustrations are amazing and fit in beautifully.
Mike is a boy who has never forgiven himself for not watching his little sister that one time she got hurt. Now paranoid and nerdy, he is determined to keep her safe even though Dani is determined to be the next biggest adventurer and will take any risk to explore. Captain Mike is the adult along for the ride but also charging forward, accepting life as it comes at him in his hunt for treasure, and filling every perilous moment with a well chosen pun.
Hilarious and thrilling, this is one for every adventure seeking reader.
https://www.goodreads.com/review/show/2830324702
---
Natasha C. (Librarian)
A lot of fun to read. Captain Kevin Adventureson, the main shipwrecker in the title, is a likable character despite his terrible puns and the fact that he only looks out for number one, himself. Mike and Dani Gonzalez are on a vacation to Brazil with their parents when they go on a boat tour up the Amazon with none other than Captain Kevin. Mike is cautious, loves books and always carries them in his trusty messenger bag. Dani, his little sister is up for anything and wants to have adventures like her heroine from Mike's books, Bermuda Betty. When Captain Kevin abandons his tour group and sets off in his boat the Roger Oberholtzer, he has no idea Mike and Dani are on the boat. Thus begins a lot of crazy adventures involving jewels, villains, ancient temples in the jungle, the Bermuda Triangle, and mummies. This story wasn't a deep one, although all of the characters, even the self-involved Captain Kevin, showed growth but it was a page turner and I thoroughly enjoyed reading about the amoral Captain, cautious older brother Mike, and crazy and brave little sister Dani. A great, fun escape read!
---
Meredith Spidel (Goodreads)
I love the creativity and fun in this book! It takes a lot to motivate my 4th grade son to be captivated by a book, but this did the trick!
---
Faith-Hurst-Bilinski (Goodreads)
From the silly title to the outrageous characters this book is definitely for the 10-13 year old group. I tried to read it through their lens. I know I have had 5th and 6th graders who would love this book. It's silly, fast paced, and fun. The captain is larger than life, the situations are completely absurd. I would put this on my classroom bookshelf for older elementary students.
---
First Shipwreckers video review!
BenSpark Family Adventures
https://www.facebook.com/photo.php?fbid=10215760719105803&set=pcb.10215760719705818&type=3&theater