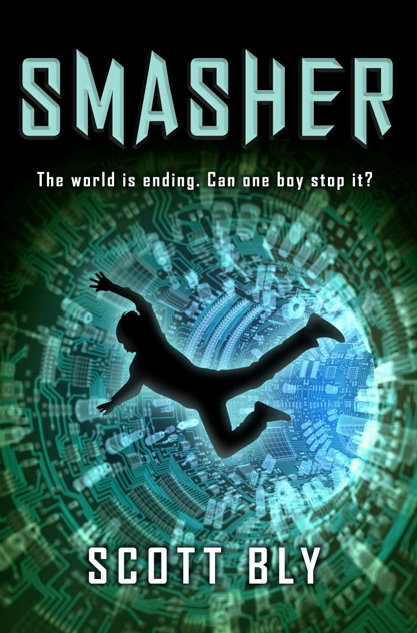 Author:
---
ISBN: 978-0545141185
Copyright Date: 2014
Rights Retained: Dramatic: Motion Picture, Television, audio-visual, home video (including disc), live stage, radio broadcasting, audio recording; Merchandising, Game (video or otherwise); Multimedia & Interactive, Animation
Audience: Ages 8 to 12
Price: $16.99
Description
With page-turning suspense, Charlie and Geneva pull readers through a maze of intrigue, as layer after layer of reality smashes to bits. In a cinematic quest to crush the powers of evil, their courage is truly tested. The clock is ticking.
Does Charlie really have what it takes to vanquish the most dangerous force our planet has ever known?
Charlie isn't a hero. He's the kind of boy who gets chased by bullies and beaten up. In fact, he's so "different" he's never had a single real friend—and his strict grandfather won't even let him have a dog.
So what makes him different? Well, he's exceptionally good at solving puzzles. And he's better at math than anyone you know. In our time, he would probably be a computer genius--which is lucky, because that's exactly what he's going to need to become. And he has another unusual ability--something you might call magic. And he's very, very gifted.
At the beginning of this story, Charlie is living in a long-ago place where people with his gift are hunted down and put to death. But his talents are desperately needed in the future—where a stubborn, robotic girl named Geneva is determined to stop the deadly activities of Gramercy Foxx, a brilliant but twisted corporate giant. Foxx shares Charlie's gift and is using it in a frightening plan to enslave the world.
Now Geneva has yanked Charlie forward through space and time. They have twenty days to decipher a unique and puzzling computer code and stop Foxx from unleashing "The Future"--his horrific invention--or humanity will lose everything.
Notes
Scott Bly
http://www.candacesbookblog.com/2014/04/interview-with-scott-bly-author-of-smasher.html
http://www.goodreadswithronna.com/2014/04/25/smasher-by-scott-bly/
Debut Author of the spring, 2014 MG Fantasy Computer Thriller for Ages 10 to 14
Scott Bly is the owner and president of a Los Angeles-based computer technology company, where he builds complex computers and "battles computer viruses and hackers," as he puts it. In 2006, Bly began sketching out a simple novel about a boy who was taken to the future and had to learn everything related to modern technology in a very short time. Dealing with different time periods, he made the decision to keep the language contemporary for young readers. Over several drafts, he created additional characters and adventures, and he wrote more than nine versions before his book was finished in 2013.
For years, Bly has been teaching computer skills to young people, and while working on this book, he invented games to use in the classroom—with overwhelming success. A songwriter, filmmaker, and gamer himself, Bly is developing games based on the world of his book at SmasherOnline.com. As a child in Kansas City, Bly had his own experiences with bullies, and he very much identifies with the hero in this book—a boy who has to overcome his fears in order to achieve something very difficult. Bly attended film school at USC and has lived in Los Angeles for more than twenty years.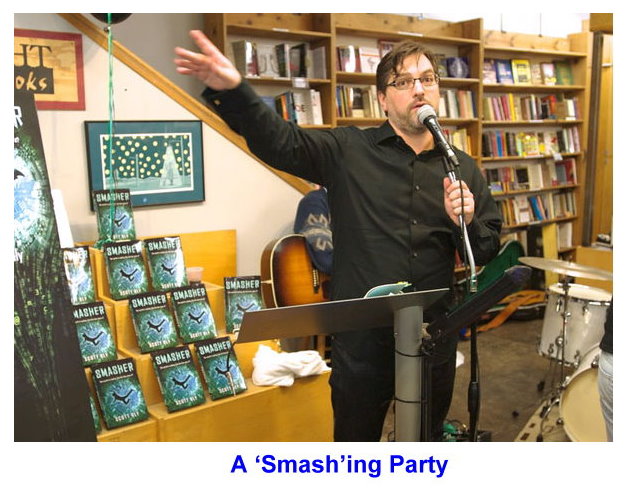 Skylight Books in Los Angeles hosted the March 28 release party for Scott Bly's debut novel, Smasher(Scholastic/Blue Sky). About 120 people attended the multimedia event. After Bly discussed his book with the audience, a local indie rock band, Derde Verde, performed, and MadTV veteran Orlando Jones chimed in via video to congratulate his author friend.
http://www.publishersweekly.com/pw/by-topic/childrens/childrens-industry-news/article/61695-in-brief-april-3.html?utm_source=Publishers+Weekly&utm_campaign=62433584fc-UA-15906914-1&utm_medium=email&utm_term=0_0bb2959cbb-62433584fc-304419529
Reviews
"A robot girl transports Charlie from medieval Europe to a futuristic Los Angeles with the explanation that only he can save the world. Almost all of Charlie's family has been killed for their ability to harness the Hum, a mysterious force that gives the wielder unimaginable power. Charlie has been taught that the Hum is to be used with love, but in LAanges the Hum is being used to terrible effect by Gramercy Foxx, a ruthless genius focused on world domination. When Charlie and his robot friend, Geneva, discover Foxx's animal-experimentation lab, where he is attempting to alter a computer virus to infect human DNA, they know they must stop him no matter the cost. It is not until Charlie returns to his time and discovers Foxx's true identity that it becomes personal. The fast-paced plot, supersaturated with technology and complex puzzles, is warmed by Geneva and Charlie's unlikely friendship. Foxx is the consummate villain, preying on children and animals without remorse—a predilection that is not soft-pedaled in the text, particularly with regard to animals, which will put readers squarely in Geneva and Charlie's court. An unusual premise vibrates with a combination of science and magic."
Kirkus
---
"Not since the creation of Star Wars has there been such an exciting tale of futuristic worlds and true heroes that you will root for with all your might."
Feathered Quill giveaway
---
"(A) grand sci-fi tale. Debut author Bly smashes time travel and robots together with the fantasy of magic in a fun, adventurous way. Charlie's a hero for smart, quiet kids, who will find a lot to love in this story."
Booklist