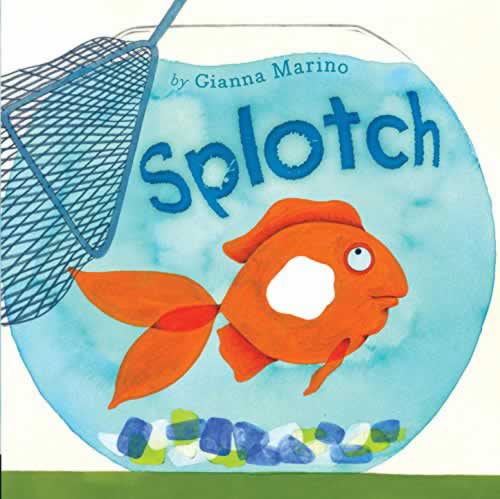 Author:
---
Illustrator:
ISBN: 978-0451469571
Publisher: Viking Books for Young Readers/Penguin Random House
Copyright Date: 2017
Rights Retained: Licenses: Simplified Chinese (Beijing Dandelion Children's Book House Co., Ltd)
Price: $17.99
Description
An unsuspecting boy, his dead pet fish, and his well-intentioned mother make this a must-read for fans of The Bear Ate Your Sandwich and I Want My Hat Back …
Splotch was meant to be in his bowl when his boy got home from school--but he isn't there! There's only one conclusion: he must have run away. But when he mysteriously returns, all is well again. Except...Splotch's distinctive spot has moved and the only explanation is that he has been CHANGED BY ALIENS! When the spot moves yet again, it's clear something fishy is going on. This hilarious story poses the question that, when it comes to this family, who is protecting whom?
Spot-on kid-humor and splashy illustrations are a signature of Gianna Marino's work. The perfect follow-up to I Am the Mountain Mouse and Night Animals, Splotch is certain to make a splash!
Notes
Gianna Marino
Reviews
"…The work is amusing, making light of a possibly upsetting scenario while simultaneously giving credit to the wit and cunning of children… The gouache and pencil illustrations are spot on."
SLJ
---
"The illustrations focus on the child's emotions, the mother's deviousness, and the cat's observations as a series of robust, colorful fish come through the bowl. Pair with Goldfish Ghost, by Lemony Snicket…"
BOOKLIST
---
"In this succinct, skillfully crafted picture book with gorgeous gouache and pencil illustrations, a boy discovers his pet goldfish is missing and desperately wants to find it. The ending is a sweet surprise."
School's out soon for summertime reading
---
"[A] mostly-visually-told plot… about anxious, humane, funny attempts to protect loved ones from sadness."
KIRKUS
---
"SPLOTCH, by Gianna Marino (NIGHT ANIMALS), is about a dead goldfish, a botched cover-up and the futility of trying to protect loved ones from hard truths.
Marino has created an interesting game of "Who's kidding whom?" between parent and child. As a story that hinges on visual discernment, SPLOTCH is appropriately light on text and strong on visual storytelling. The illustrations are flat and telegraphic, with exaggerated facial expressions to convey the characters' shifting moods and motives.
Don't miss the back endpapers, which suggest an alternative, sunnier fate for Splotch and all the other fish we flush."
NYTBR; Gone Guppy
---
" …all of the stories (SPLOTCH, GOLDFISH GHOST, HEY, BOY and COLETTE'S LOST PET) dip a pinky toe into the emotional pool of loss without being morose or preachy. It's not easy territory, but we have skillful book creators to help our younger kids explore it with imagination, humor and hope."