THE BALLAD OF JESSIE PEARL
Children's Books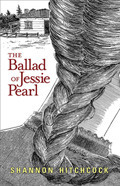 Author:
---
ISBN: 978-1-60898-141-0
Publisher: Namelos
Copyright Date: February 2013
Audience: Ages 10-up
Format: Chapter Book
Price: $18.95
Pages: 140
Description
Tampa, Florida-based Shannon Hitchcock grew up in rural North Carolina on her grandparents' 100-acre farm. Her extended family, (grandparents, her mom and dad, Shannon and her sister, her five uncles, their wives, and her eleven cousins), all lived there. Luckily, not in the same house!
Shannon's rural background, her large family and her love of the south are all integral to her stories, including Shannon's debut middle grade novel, THE BALLAD OF JESSIE PEARL, (Namelos), which "wraps you like a quilt in the traditions, tastes, and dialect of rural North Carolina."
AN OVERGROWN JACK, her picture book biography--nominated for the Sue Alexander New Voices Award--is about Ray Hicks, the "Giant Storyteller" famous among folklorists for telling stories that had been passed down through his family for eight generations. Thank you for telling your very own stories, Shannon!
www.ShannonHitchcock.com
www.twitter.com/shanonhitchcock
http://shannonhitchcockwriter.blogspot.com
http://www.childrensliteraturenetwork.org/magazine/debut/
Notes
A 2014 Crystal Kite Award winner!
http://www.shannonhitchcock.com/forteachers.html
http://www.ascattergood.blogspot.com/2012/12/shannon-pt-2.html
Reviews
"With the poetry of plain speaking, Shannon Hitchcock recreates the daily drama of a vanished world."
Richard Peck
---
"Hitchcock's story is gently and lovingly written …its detailed honesty about the particular struggles of the period, especially for strong women, is significant …"
PW
---
"Hitchcock's debut neatly captures a full flavor of the setting and period."
Kirkus
---
"Reminds me of Patricia MacLachlan for an older reader. ….[V]ery well written. Could be a Common Core narrative mentor text."
Margaret Towery
Curriculum Coordinator, South-Western City School District, Ohio