THE KIDNAP PLOT-THE EXTRAORDINARY JOURNEYS OF CLOCKWORK CHARLIE trilogy
Children's Books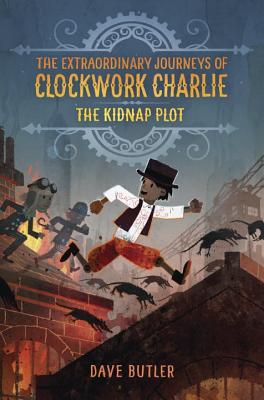 Author:
---
ISBN: 978-0-553-51295-3
Publisher: Knopf/Penguin Random House
Copyright Date: June 14, 2016
Rights Retained: Commercial/Merch; Performance: television, radio, dramatic, musical, motion picture & video & allied
Price: $16.99
Description
Meet Charlie. He lives a quiet life with his protective father, an inventor and clockmaker.
When Charlie's father is suddenly and mysteriously kidnapped by a shadowy group called the Anti-Human League, it's up to Charlie to save him. Before long, he has assembled a motley crew to help. From the terrifying but well-meaning troll Grim Grumblesson to the high-flying young aeronauts Bob and Sir Oliver, this team will follow the trail anywhere.
But the league's plan is much more sinister than Charlie could have imagined. And as he unravels the secrets of the league, he also uncovers his father's own secrets—about his family, the league, and even himself...
Can Charlie and his gang rescue his father from the dastardly villains who have kidnapped him? And will Charlie be able to come to terms with who he really is? The journey begins here!
With lots of stylized references, plenty of adventure, beings with super-human abilities, wondrous inventions, and a main character with a secret …The Kidnap Plot is blended historical/fantasy fiction brought to life like clockwork …
---
Charlie Pondicherry looks like any ordinary kid, but his father treats him like a freak. Charlie isn't allowed out of the house very often, and never at all out of the alley where Pondicherry's Clockwork Invention & Repair is located, and when he does go out, his father slathers him with weird skin creams. So Charlie reads a lot, tries to avoid the bullies in the alley, and dreams of adventure. What Charlie doesn't know about himself is that he isn't an ordinary boy, and that Raj Pondicherry isn't his father -- Charlie is the most advanced clockwork device on Earth, and Mr. Pondicherry is the inventor who built him.
Adventure comes looking for Charlie when thugs working for a mysterious organization called the Iron Cog kidnap his father. Charlie gathers allies and sets out to rescue Mr. Pondicherry and thwart the Iron Cog's evil plans.
With the help of his father's Kobold partner, a Troll lawyer, a Pixie fine print clerk, a were-snake and a would-be aeronaut, can Charlie rescue his father, discover the secret of his own identity and prevent the Iron Cog from replacing Queen Victoria with a simulacrum that will do their bidding, putting them in command of might and wealth of the British Empire?
Set in London in the early 20th Century at the time of Queen Victoria's Jubilee--think hot air balloons, zeppelins, the giant Ferris wheel built for the celebration—our pre-teen hero saves not only his inventor father, but the Queen, from a dastardly plot.
---
https://twitter.com/DavidJohnButler
Notes
A featured finalist in its category for the AML (Association of Mormon Letters) Award:
http://associationmormonletters.org/blog/2017/02/2016-aml-awards-finalists-1-middle-grade-and-young-adult-novels/
http://www.dungeoncrawlersradio.com/episodes/episode-the-kidnap-plot
Reviews
"A page-turning adventure."—School Library Journal "The fast-paced plot is action-packed but leaves room for Charlie's coming-of-age journey… Debut author Butler's meticulously crafted world springs to vivid life in this first book in the Extraordinary Journeys of Clockwork Charlie trilogy …
[The Kidnap Plot] should satisfy fans of fantasy and adventure."
—Publishers Weekly
---
"It's a strong start to a new series—the characters are diverse, and Butler creates a smoky, grimy, harsh England that is almost a living character in itself.
Readers will happily keep an eye out for the next volume."
—The Bulletin for the Center for Children's Books
---
"Reminiscent of both Pinocchio and The Great Mouse Detective, this novel is tailor-made for young readers who love adventure narratives and steampunk fiction."
—Kirkus Reviews
---