THE SOCK THIEF
Children's Books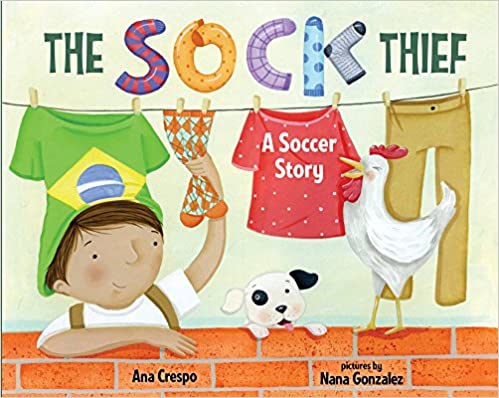 Author:
---
ISBN: 978-0807575383
Publisher: Albert Whitman & Company
Copyright Date: March 1, 2015
Price: $16.99
Description
Brazilian boy Felipe wants to play soccer, but he doesn't have a soccer ball. So, when it's his turn to take one to school, he uses a little bit of creativity... and a few socks. Felipe is the sock thief, but finding socks is not that easy and the neighborhood pets make it even harder. "Au, au, au!" a dog barks in Portuguese. Felipe wonders if he'll play soccer with his friends today or if he will be caught by a tattle-tale parrot? Along the way, Felipe leaves delicious mangoes in exchange for the socks he steals. After he swipes each pair, he twists and turns them into an ever-growing soccer ball. At the end of the day, he returns each pair of socks with a note to say thank you.
Learn how to pronounce the Portuguese words in the book: https://www.anacrespobooks.com/lets-learn-portuguese
Video, animation, and music by Dow Phumiruk
Notes
CCBC Choices 2016
Politics & Prose Summer Favorites 2015
Austin Public Library Hispanic Heritage Month 2016
Reviews
"Crespo presents a charming story that not only appeals to futebol, or soccer, fans but also to those who possess a creative spirit. She provides a glossary with Portuguese words and scatters a few Portuguese animal sounds throughout the text. Gonzalez paints with a boldness that gives life to the Brazilian setting, adding a little bounce to this futebol-themed picture book. A lively celebration of futebol, culture, and ingenuity." —SLJ
---
"Poverty in Brazil probably isn't as spotless as Gonzalez's artwork implies, but the feeling of intimacy and decency is welcome. Crespo's text has a mildly subversive touch–but in the service of the greater good, and it's clear by the end that the whole neighborhood believes in that greater good." — Kirkus
---
"Bright colors, rounded shapes, and the commentary of early-rising animals who witness Felipe's pilfering add to the charm of the tale, and a glossary of Portuguese terms 'you can learn and practice with your friends' extends the fun." —BCCB
---
"This book teaches manners, values and a smattering of Portuguese, all in an immensely enjoyable Brazilian tale." — The Advocate