THIS JAZZ MAN
Children's Books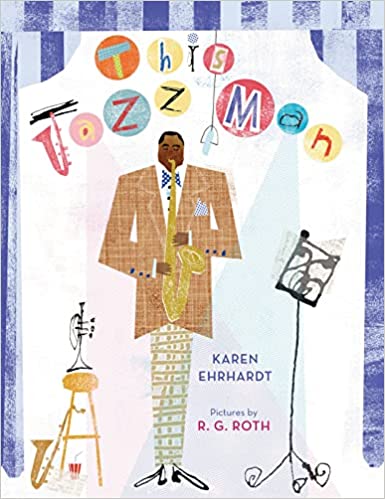 Author:
---
ISBN: 978-0152053079
Publisher: HMH Books for Young Readers
Copyright Date: November 1, 2006
Price: $17.99
Description
In this toe-tapping jazz tribute, the traditional "This Old Man" gets a swinging makeover, and some of the era's best musicians take center stage. The tuneful text and vibrant illustrations bop, slide, and shimmy across the page as Satchmo plays one, Bojangles plays two . . . right on down the line to Charles Mingus, who plays nine, plucking strings that sound "divine."
    
Easy on the ear and the eye, this playful introduction to nine jazz giants will teach children to count--and will give them every reason to get up and dance!
    
Includes a brief biography of each musician.
Notes
An Audie Award winner for Best Audiobook for Kids up to Age 8
Audio Publishers Association
Reviews
Onomatopoeic words spill across the pages in imitation of the music's sounds…. 
fun for jazz aficionados and neophytes alike. —School Library Journal
---
Infectious, rhythmic…. [The] text scans with a smooth, toe-tapping tempo…. Children will want to shout along with the scat-cat rhythms ("Beedle-di-Bop! Bebop!") … a welcome introduction.–Booklist
---
Gentle and upbeat… it's a whole lot of fun!–The New York Times Book Review
---
Just right as an uptempo introduction for the youngest music lovers.–Publishers Weekly
---