TIP-TAP POP
Children's Books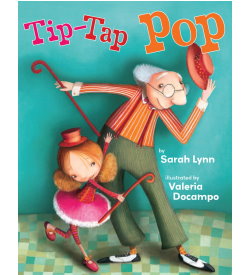 Author:
---
ISBN: 978-0-7614-5712-1
Publisher: Marshall Cavendish
Copyright Date: 2010
Audience: Children
Description
Emma and her grandpa, Pop, are tap-dancing pals. They dig-shuffle-chug through town and put on a clickity-clacking, tip-tapping show every year on Emma's birthday. But Pop is getting old. He starts forgetting things, even Emma's birthday. And he stops dancing. Can Emma help Pop's feet remember how to dance? Clickity-clack, clickity-clack, stomp-stomp-clickity-clack. . . .
There is a tender sweetness in this title, as a young girl finds a way to reconnect with her beloved grandfather through their shared love of dancing.. When Emma notices that Pop's feet can still remember how to dance, a quiet hope grows that other special memories survive. Endearing illustrations rendered in gouache and pencils show that even the smallest act may spark a memory in an Alzheimer's sufferer.
Notes
Tip-Tap Pop nicely complements Mem Fox and Julie Vivas's classic Wilfrid Gordon McDonald Partridge.
–Kirkus Reviews September 1, 2010