TOO TALL HOUSES
Children's Books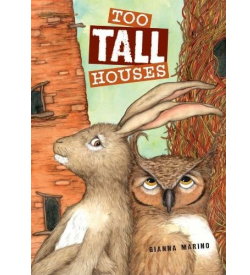 Author:
---
Illustrator:
ISBN: 978-0-670-01314-2
Publisher: Penguin Books for Young Readers/Viking
Copyright Date: 2012
Rights Retained: Motion picture/Television/Radio & Dramatic; Lyric
Audience: Ages 3 and up
Price: $16.99
Pages: 40
Description
Reviews
"…The illustrations feature impeccably detailed pencil drawings combined with sumptuously colored gouache backgrounds. The animals are full of heartfelt emotions, from anger and frustration to happy contentment. Marino interjects a few humorous details throughout the story–the expressions of grumpy Owl getting watered by Rabbit or flying with a squashed tomato on his head are priceless."
School Library Journal Starred
---
"… Another winner for rising star Marino"
Kirkus Starred
---
"This is a beautifully illustrated, whimsically told tale that will resonate with children of all ages. Through the friendly banter of a clever rabbit and an ambitious owl, Marino skillfully depicts the downside of focusing on 'ME' and the benefits that come with focusing on 'WE.' While children will laugh out loud, parents can use this warm, light-hearted story to help diffuse the tug-of-war among siblings!"
Anderson McKean, Page & Palette, Fairhope, AL
2012 Kids' Indie Next List
---
"A story with universal appeal and a very particular sense of place"
PW
---
Hilltop neighbors Rabbit and Owl nearly destroy their friendship when envy and one-upmanship take hold in this appealing story that reads much like a folk tale.
First, gardener Rabbit's autumnal veggies block Owl's forest view. Then, Owl's remodel diminishes light for Rabbit's garden. So it goes, until "soon they had / the tallest houses in the world." When a windstorm assists in toppling their teetering, untenable abodes, the animals land in a pile of dirt, strewn vegetables and broken twigs. Their shared plight engenders renewed cooperation and friendship: "Alone they had nothing / but together they had all they needed… / to build one small house." Marino's full-bleed pencil-and-gouache illustrations beautifully capture the pair's harmonious play, mounting rift and oh-so-satisfying reconciliation. The marvelously dizzying perspective and visual depiction of emotions mesh, in pictures that preschoolers can "read" with absorption. During their estrangement, Owl and Rabbit appear on opposite ends of double-page spreads or glare across the sky-high gap between their absurd towers. The well-turned, dialogue-rich narrative complements the sunny visuals, making this an excellent choice for one-on-one or group read-alouds. Smart design details include a tall trim size, the choice of an elegantly readable typeface and end pages that pictorially encapsulate the story arc.
Another winner for rising star Marino.
Starred Review
---
"…a story of friendship that youngsters can understand and relate to."
Library Media Connection