UNDER THE BROKEN SKY
Children's Books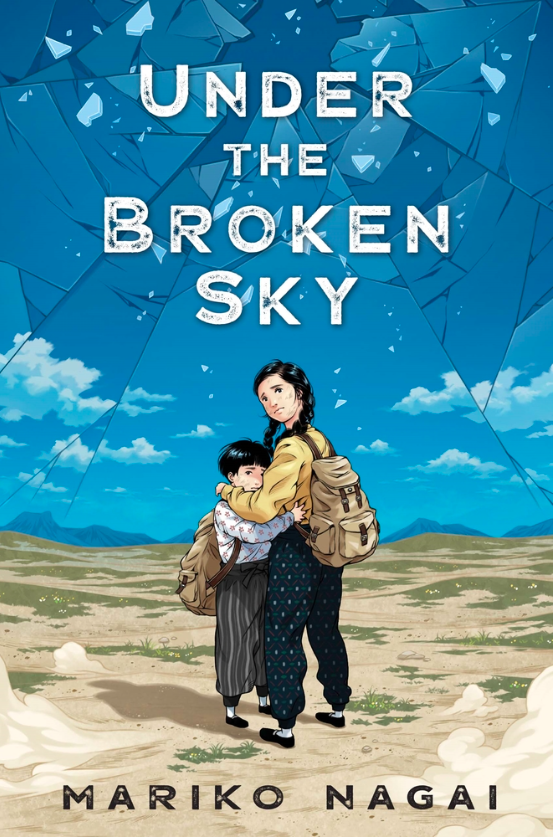 Author:
---
ISBN: 978-1-15921-2
Copyright Date: 2019
Price: $16.99
Description
A beautifully told middle-grade novel-in-verse about a Japanese orphan's experience in occupied rural Manchuria during World War II.
Twelve-year-old Natsu and her family live a quiet farm life in Manchuria, near the border of the Soviet Union. But the life they've known begins to unravel when her father is recruited to the Japanese army, and Natsu and her little sister, Asa, are left orphaned and destitute. In a desperate move to keep her sister alive, Natsu sells Asa to a Russian family following the 1945 Soviet occupation. The journey to redemption for Natsu's broken family is rife with struggles, but Natsu is tenacious and will stop at nothing to get her little sister back.
Notes
A Junior Library Guild Selection
---
A 2021 Sakura Medal nominee
---
An NCSS-CBC 2020 Notable (Social Studies)
---
An NCTE Notable 2020 (Poetry & Verse novels)
---
An ILA 2020 Notable for a Global Society
---
Denver Library Best & Brightest
---
---
Reviews
★ STARRED BOOKLIST★
Natsu's twelfth birthday finds her in Manchuria with her small family, Japanese farmers with an unyielding belief in their Emperor's preeminence. When her father is called up to WWII's Manchurian front, Natsu is left to care for her little sister Asa—with the help of their neighboring "Auntie." After the Soviet army invades and Japan surrenders, Natsu joins Auntie and Asa on a journey through hunger, sickness, and violence as they search for safety among the changing socio-political landscape of the place they once called home. Pushcart Prize-winning poet and prosaist Nagai tells a story of courage and survival amidst the unraveling of WWII. If there were only one reason to read this book, let it be for Natsu. The child forced by circumstance to grow up too soon is an omnipresent figure both throughout history and in present-day refugee communities, where families are broken and it is safer to abandon home than it is to stay. Another reason would be the exquisite poetry, accessible to middle-graders but nonetheless stunning in its imagery, or the captivating character development of not just Natsu but Nagai's tertiary characters as well, or the sharp historical lens through which readers receive Natsu's story. Published for middle-grade readers but necessary for all of humankind, Under the Broken Sky is a breathtaking work of literature.
Literary and historically insightful, this is one of the great untold stories of WWII. Much like the Newbery Honor book Inside Out and Back Again by Thanhha Lai, Under the Broken Sky is powerful, poignant, and ultimately hopeful.
---
It's 1945 and twelve-year-old Natsu narrates in first-person verse the joys and challenges of farm life in a Japanese settlement in Manchuria. When her father is drafted to fight for the Japanese Empire in World War II, Natsu, her younger sister, Asa, and Auntie (their neighbor) flee on foot to the city of Harbin, where they live in an abandoned school packed in with other refugees. Auntie dies of dysentery and then Natsu falls ill, forcing her to make an agonizing decision—she sells her sister to a Russian woman, one of many childless adults who will buy refugee children to expand their families, in order to keep Asa safe. Each titled poem varies in cadence and echoes Natsu's mood, conveying her short, often exhausted thoughts. Although Natsu recovers from her illness and is eventually reunited with her sister, the ending doesn't undo the heartbreak of their story; it is told with frank, unsentimental honesty and pain that lives in the space between words as much as in the words themselves. An afterword includes historical context on Manchuria in World War II and a reminder from the author that refugee families to this day leave their homes because they have no choice; this story offers readers a moving way to put themselves in such families' shoes. ―The Bulletin
---
An NCTE Notable 2020
https://ncte.org/wp-content/uploads/2020/01/2020-Notable-Poetry-Books-and-Verse-Novels.pdf
---
An ILA Notable 2020 Book for a Global Society
https://www.clrsig.org/notable-books-for-a-global-society-nbgs.html
---
"Under the Broken Sky is a story of hope and resilience during one of history's tragic forced migrations. Mariko's beautiful free verse reveals the emotional impact on a child and her family.
"― Margarita Engle, Newbery Honor-winning author of The Surrender Tree
---
A Denver Library's Best & Brightest
"Stunning, short, free verse poems move at a swift pace…
Nagai, a Japanese-born author, includes back matter detailing extensive research, including oral interviews with individuals who were separated, often permanently, from their families during the invasion. She writes that even today, the refugee experience continues in many countries: "They have left everything they knew and loved to reach a place of safety. Nobody chooses to be a refugee.""
---
A moving story of one Japanese family's survival in occupied Manchuria during World War II. The small farm where 12-year-old Natsu lives with her father and her sister, Asa, is all she has ever known. But when her father is forced to join the Japanese army, everything begins to change. He makes Natsu promise three things: keep his backpack, stay together, and if anything happens, run! Before long, the Soviet army forces the women and children to flee the settlement. Walking for weeks, they finally arrive at the Chinese city of Harbin. They are crammed together in an old school building, where hunger, fear, and death prevail. When Natsu falls ill, she decides to save Asa by selling her to a Russian family. Incredibly, she regains her health and learns of a boat returning refugees to Japan. Yet Natsu holds fast to her promise: she will not leave without her sister. Nagai writes in verse with both a detached hesitancy, as if looking at the story from a distance, and a deep understanding of the sisters' pain through rich imagery that poetry so often allows. It is a hard history to swallow, but it is made palatable through the characters' tenacity and belief in an outcome greater than their own. VERDICT Echoing the hardships and redemption of many novels about World War II, this well-timed story about a lesser-known group of refugees adds an important chapter to the narrative of human oppression and survival. ―SLJ