WALLS THAT WOW
Adult's Books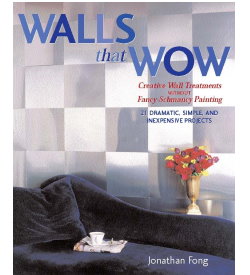 Author:
---
ISBN: 0-8230-9978-4
Publisher: Watson Guptill
Copyright Date: 2007
Cover Type: Paperback
Format: Nonfiction
Price: $22.00
Description
Face it. Most walls are booooring. Until Jonathan Fong gets through with them! Walls That Wow is packed with twenty-four spectacular ideas for jazzing up any wall--without complicated painting. Best of all, every project is removable, so homeowners and renters can try another wow technique whenever the mood strikes.
All the projects are presented with brilliant step-by-step color photos, plus materials checklists, full instructions, helpful hints, and an ETW (estimated time of wow). Unexpected materials, simple techniques, and stunning results make every reader say "WOW! I can do that...and I want to!"
Notes
3-book series launched in Fall 2005
WOW series (Home Décor and/or Crafts)
Reviews
"Jonathan's book is chocablock with innovative ideas that illustrate good design has little to do with money and everything to do with personal style."
-Barbara Thornburg, Senior Editor/Home Design, "Los Angeles Times Magazine"
---
"Amazing. These walls are so simple, anyone can do them in their own home."
-Drew Hallmann, TV Producer of "Homes Across America," HGTV
---
"There's no excuse for 'ho-hum' walls anymore. This is instant beauty made simple."
-Cindy Harris, Author of "Keeping House: Hints and Tips for a Beautifully Clean Home"
---
"Jonathan Fong really thinks outside the box! His unique ideas are unbelievably clever…utilizing readily available and affordable materials with style."
-Kitty Bartholomew, TV Host of "Kitty Bartholomew: You're Home," HGTV