Audrey & Don Wood
Children's Author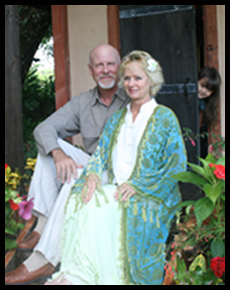 Audrey Wood is the much-loved author of more than fifty books for children, including the bestselling, award-winning classics THE NAPPING HOUSE, PIGGIES, and HECKEDY PEG.  Yes; the little girl who spent part of the first year of her childhood in the winter quarters of the Ringling Brothers' Circus, listening to fantastical stories, grew up to be an accomplished storyteller herself. But Audrey's talent goes far beyond words. As a fourth-generation artist, she's also a gifted illustrator.
Audrey's IRA-CBC Children's Choice title (available in 26 editions), SILLY SALLY, received a starred review by Booklist and was praised for its "watercolor paintings, exploding with whimsy, humor, and zest." Likewise, PW feted LITTLE PENGUIN'S TALE for its "outlandish humor and fabulous color illustrations."
In addition, Audrey often collaborates with her husband, Caldecott Honor illustrator Don Wood (KING BIDGOOD'S IN THE BATHTUB). In PIGGY PIE PO, Audrey drew the illustrations and Don painted them. The result is the work of a "mysterious" third artist, not quite Don, and not quite Audrey.
Whether working on her own or in partnership with Don, Audrey's work is always bursting with exuberant drawings, full of action and color, providing an emotional scope that is captivatingly authentic and kid-friendly rich.
Audrey, her husband Don, and quite a few furry friends split their time between California and Hawaii. There, she continues to create new American classics. Audrey is forever thankful for and appreciative of the wonders and excitement picture books bring to her life.
DON's BIO
Don was born and raised on a farm in the great Central Valley of California. It is one of the most fertile farming areas in the country. They raised peaches, sweet potatoes, almonds, grapes, and oranges. His father ran the farm, and his mother was a very popular elementary teacher at a small rural school nearby. There was always a lot of work to do growing up on a farm. By the time Don was in the sixth grade, he had forty acres of potatoes to take care of by himself (that's a lot of potatoes). His brother, half brother, and he were doing a man's work by the time they were twelve. During the summer, that often meant twelve to sixteen hour shifts, seven days per week. Once, when he was a teenager, Don remembers working twenty-six hours straight. They were paid wages for their work and were expected to pay for their own clothes and entertainment, and eventually, cars and college educations. 
In the sixth grade, Don decided to be an artist. His father was worried about his decision, and Don endured some tough pressure to pursue other careers (such as architecture). Luckily his other brothers wanted to run the farm, so his decision did not endanger the family business.
Since summer was so busy, winter was his time to draw. He could never find pieces of paper big enough. In those days, the laundry came wrapped in light-brown, crinkly paper. One day his mother had an idea. She ironed the crinkles out of the paper and gave it to him. At last! A giant piece of paper! It covered the entire kitchen table. From then on, laundry day was art day.
Don loved sports as a child, and he still does. When he was younger, he played lots of football. Now that he lives in Santa Barbara on the coast of Southern California, many of the sports he loves involve the beach or the ocean. He enjoys sailing, beach volleyball, swimming, and snorkeling; and recently his son, who is an excellent surfer, taught him to surf. In the winter, Audrey and Don like to camp in the deserts and go snowshoeing in the mountains.
Don attended college at the University of California at Santa Barbara and did graduate work in art at the California College of Arts and Crafts. He met Audrey at Berkeley while he was studying there, and six months later, they were married. After their son Bruce was born, Audrey began to write children's picture books. Don was illustrating magazines at the time, and it seemed natural for him to illustrate one of her books. He illustrated Moonflute and enjoyed it so much that he has been illustrating children's picture books ever since.
For more detailed information about Don Wood, go to your public library reference desk and ask the attendant for volume fifty of Something About the Author.
Sign Up for Our Newsletter