Chris Gorman
Children's Author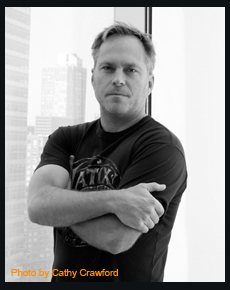 Many music fans know Chris Gorman as the rock-star drummer from the Grammy-nominated band Belly (and before that, Verbal Assault).  Still others know him as the professional photographer he's been since Belly split up nearly twenty years ago. OH; but not anymore – Belly's back with a reunion tour!
Now, with the release of the "joyous" (Booklist) One of a Kind – "a picture book celebration of individuality and community," according to Kirkus -- Gorman has another role: children's book author and illustrator.
In One of a Kind, we have a fresh take on the challenges of being different. Inspired by his own and his son's experience, Chris invokes the energy and spirit of punk music to capture both the thrill and the loneliness of being who you are. 
And who knows better what it's like to be different than a mohawk-sporting, pogo-dancing, punk-rock obsessed kid?
Chris Gorman also wrote and illustrated Indi Surfs, which The NYT called, "as simultaneously exhilarating and meditative as surfing itself." Born and raised in Rhode Island, he now lives in Rhode Island with his wife and two children.
Sign Up for Our Newsletter