Mark Vieira
Adult's Author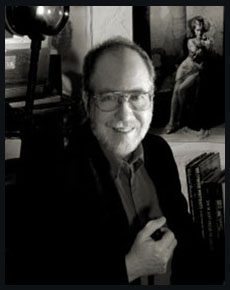 Mark A. Vieira is a photographer who writes books about classic Hollywood, using archival treasures to weave seamless narratives of bygone glamour. He's given a voice to luminaries like Boris Karloff, Greta Garbo, and Jean Harlow. He publicizes his books with exhibitions of photographs that he prints by hand from original Hollywood negatives, turning silver nitrate into golden iconography.
Mark makes portraits with George Hurrell's own camera in the Granada Buildings, where Hurrell had his first Los Angeles studio. Mark's portfolio includes the "Portraits of Pleasure" ad campaign and portraits of Jack Lemmon, Danny Glover, Maggie Grace, and Leslie Mann.
In 2010 Mark's forty-first anniversary as a professional photographer was celebrated by "The Glamorous Gaze," an exhibition at the University of Southern California's ONE Archives Gallery.
In 2009 Mark guest-curated the Academy of Motion Picture Arts and Sciences exhibition: "Irving Thalberg: Creating the Hollywood Studio System, 1920-1936."
Mark has appeared on camera in Photoplay Productions' Garbo, on CBS Sunday Morning, and in the 2011 BBC documentary Shooting the Stars.
In June 2013 Mark entertained a capacity audience in the historic Orpheum Theatre for the L.A. Conservancy's presentation of Ben-Hur. In July 2013 Mark appeared on NBC's The Today Show.
BOOKS
George Hurrell's Hollywood: Glamour Portraits, 1925-1992. Philadelphia: Running Press, 2013.
Majestic Hollywood: The Films of 1939. Philadelphia: Running Press, 2013.
The One-Man Crusade: How Clifton's Cafeteria Cleaned Up City Hall. (With Edmond Clinton, M.D.) Santa Monica: Angel City Press, 2013.
Harlow in Hollywood. (With Darrell Rooney) Santa Monica: Angel City Press, 2011.
The Making of "Some Like It Hot." (With Tony Curtis) Hoboken, NJ: John Wiley and Sons, 2009.
Irving Thalberg: Boy Wonder to Producer Prince. Berkeley: University of California Press, 2009.
Hollywood Dreams Made Real: Irving Thalberg and the Rise of M-G-M. New York: Abrams, 2008.
Greta Garbo: A Cinematic Legacy. New York: Harry N. Abrams, 2005.
Hollywood Horror: From Gothic to Cosmic. New York: Harry N. Abrams, 2003.
Sin in Soft Focus: Pre-Code Hollywood. New York: Harry N. Abrams, 1999.
Hurrell's Hollywood Portraits. New York: Harry N. Abrams, 1997.
Hollywood Portraits 1939-1951. New York: Bantam Doubleday Dell, 1989.
Sign Up for Our Newsletter